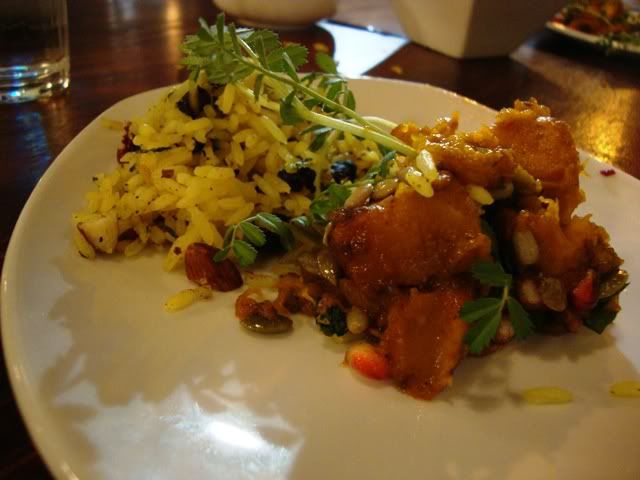 I was vegan about 6 years ago for 2 years. And I was full on, militant. I went back to being vegetarian for 3 years, last year I went back to eating fish and calamari to going back to being vegan this year (it all changed when I went snorkelling in Perth and I cried on the beach after watching the fish swim around, I couldnt look them in the eye). I told myself I didn't want to go as militant as I was last time (as I found it really super took away from my enjoyment of life - however things have markedly changed now, vegan food is way more easily accessible out - especially in Melbourne), however knowing myself and what I am like, I put loose parameters around it as if I didn't I would instantly want to rebel against it.
So I've been about 98% vegan since April. Occasionally about once a fortnight through poor planning I wouldn't have breakfast in the house, so I would have a muffin from Greens. Within about 2 months I couldn't do it anymore because the smell of egg was so overpowering it made me gag. I occasionally eat a 'milk coffee' or 'milk arrowroot' biscuit at work, however this trip to Baba Leventine was my first blatant side step from veganism where I ate a feta pumpkin pizza. Man was I SICK. I loved feta SO SO much and it really added nothing to the pizza. I'm glad to have these side steps because now I wont get sad over not being able to have fetta anymore. Its all a learning process.
So Baba Leventine is amazing. I love it there. We ate the beetroot/mint dip with fresh pide and breads (no picture, Clare and I just INHALED it), the roast pumpkin and honey salad (I eat honey - I'm not sure how I feel about the whole bees honey thing, anyone want to change my mind?) and the spinach rice pilaf. The wine was lovely and it was just a class night. The service is lovely if not a little over bearing. Baba is always our backup when we cant get into Rumis (I mean really, who takes bookings these days - so not hot), the new Rumis space looks geigh though so perhaps Baba will be it from now on. Oh and I should add, got 4 or more people and you can do a tasting platter feast, and they can accomodate vegans/vegies and omnis all at the same time. I NEED to do that next time.
Food: a mouthwatering gut stuffing 9/10
Service: friendly but too overbearing didnt give us our $20 change back and assumed it was a tip 7/10
Space: a lovely massive warehouse this is what Seven Seeds should have been like 9/10

Overall: 16.5/20

Deets: No need to book. 80 Lygon Street, Brunswick East, 039380 8534
$$: I have no idea, I got too drunk. So we had 2 bottles of wine, a pumpkin fetta pizza, beetroot dip, pumpkin salad, rice pilaf, Daniel had the lamb special and all three of us have turkish coffee (its really not great dont get it) and 3 pieces of turkish delight. $135.