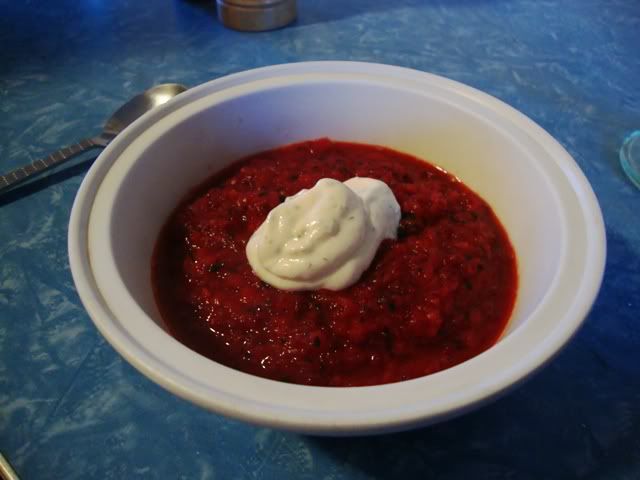 Adapted from
The Voluptuous Vegan
ingredients
2 tbsp olive oil
2 medium onions, diced
2 cups of shredded cabbage
1 bay leaf
3 medium beets, peeled and cubed
1 medium carrot, cut thin into half moons
1 medium potato, cubed slightly larger than the beets
1 can of butter beans or cannelini beans
8 cups of stock
2 tbsp of mirin
2 cups of chopped beet greens or swiss chard or spinach
salt to taste
1 tbsp fresh lemon juice
method
1. Cook the onions in the oil until they start to turn brown, add the cabbage and a cup of stock and cook until the cabbage starts to wilt.
2. Add the bay leaf, beets, carrot, potatoes, beans and stock and bring to the boil and simmer on medium heat until the beets/potatoes are tender and cooked (about 20 minutes but test every once in a while).
3. Add the mirin and greens and cook for another 5 minutes. Then put the soup in the blender, I like a chunky, thick borsch so I take out most of the fluid then whizz. I then reserve the beet stock/juice in the freezer for the next time I make borscht.
4. Plate, and sprinkle with some lemon juice and black pepper and a huge dollop of
dill sour cream
.