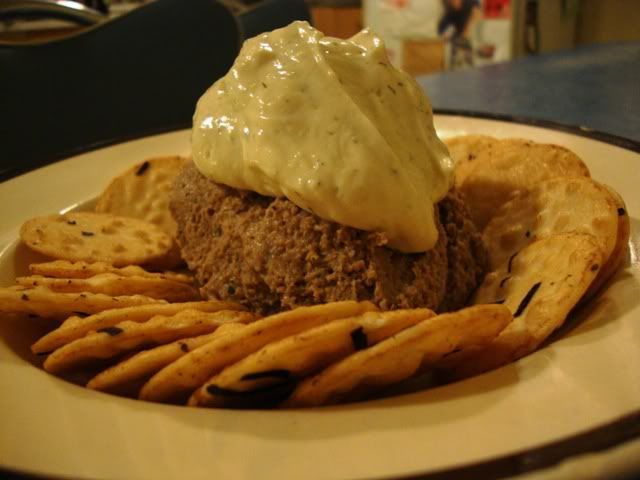 Hi everyone! Sorry for the lack of posting, I've been at wedding-arama in Sydney since Wednesday. I was so hungover yesterday I felt like I had bone cancer. The good news however is, I have a BACKLOG of posts to share with you. It also means I've missed out on the first 2 days of Vegan Mofo, but I'll make it up with posts this weekend!
Now onto food goodness! (Sorry for the crap photo too, I need to figure out night lighting in my house).
lentil walnut pate (from the Real Food Daily book)
This pate takes a bit of time but its SO worth it and SO impressive to your dinner guests. I figure the best way to make people consider veganism is to woo them with outstanding food!
ingredients
3/4 dried lentils (or a can of cooked lentils, rinsed)
3 cups of water
1 bay leaf
2 tbsp olive oil
6 cloves of garlic, coarsely chopped
1 small onion diced
1 tbsp of mirin
1 1/4 cup of walnuts, toasted
1/3 cup of fresh basil
3 tbsp of yellow miso
1 1/2 tbsp of umeboshi paste
1 tbsp of fresh thyme
3/4 tsp of freshly ground black pepper
Serve with tofu sour cream (recipe to come)
method
Firstly a word about the ingredients, you will find umeboshi paste or plums (umeboshi are brined Japanese plums about the size of a giant grape) at any asian supermaket with a decent Japanese food section (the one near Queen Vic markets is rad, but the one in Barkley is cheaper), if you cant find the paste I just measure out as many plums into a tbsp (remember to pit them first!), as for the miso I have used all kinds of different misos in this and its always turned out well, from barley miso to white miso, you just need a light coloured miso. Ive also made it with dry herbs instead of fresh, use 1 tsp of dried to 1bsp of fresh.
1. (Skip this step if you are using canned lentils) Cook the lentils with the bay leaf and water until tender, drain then rinse and remove bay leaf.
2. In a fry pan, cook the onion and garlic in the olive oil until golden brown, stir in the mirin then take off the heat and cool.
3. Chop the walnuts in a food processor until it forms a paste and blend in the lentils and onion mixture. Then combine the remaining ingredients - umeboshi paste, basil, miso, lentils, and thyme, whizz until completely combined.
dill tofu sour cream
1 packet of Japanese silken tofu*
1 tsp of sushi seasoning
1 tsp of mirin
1/3 tsp of dry mustard or dijon
1/4 clove of garlic, minced
2 tsp of olive oil
1 tsp of dill (optional)
method
1. Gently remove tofu from its package and place into a container of fresh water. Run the tap over it slowly until the water runs clear (about 3 minutes).
2. Drain the tofu and whizz all the ingredients in a food processor (I've also used a stick blender with success) until smooth. Season to taste.
notes:
The sour cream keeps up to a week, just stir through any released water before serving. You can flavour it to suit any dish just add some hot sauce, lemon juice, thyme – any herb. Japanese silken tofu can sometimes be found in the fresh tofu section but Morinaga (brand) tofu is the best. You can find Morinaga in the Asian food section in a juice box type container. Firm or soft I can't tell the difference, both make great sour cream.