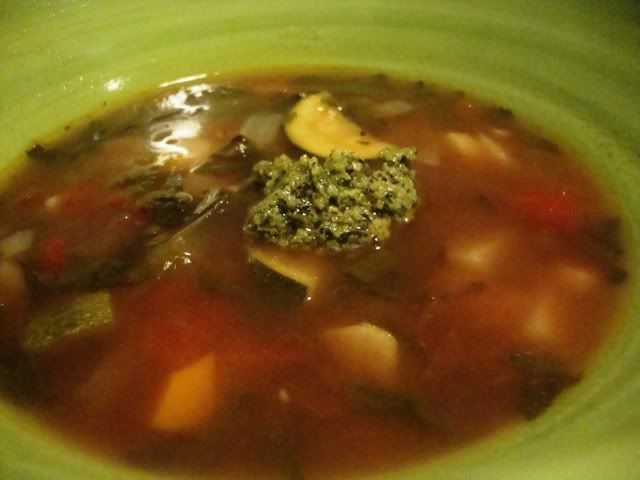 With minestrone, you can pretty much whack anything in there, any seasonal vegetable, or frozen vegies you have lying around. Recipe from
the Voluptous Vegan
.
ingredients
2 tbsp olive oil
1 onion, diced
3 cloves of garlic, minced or diced
1 tsp of dried thyme
1 tsp of dried rosemary
1 tsp of fresh (or dried) chilli finely sliced (or to your taste)
1 tin of diced tomatoes
1 tin of butter beans (or borlotti/butter beans or chickpeas, whatever)
5 cups of vegetarian stock (any flavour)
1/2 cup of red wine (optional)
2 potatoes, peeled and diced small
1/4 cup of short pasta (optional)
1 large carrot, diced
2 zucchinis, diced large
1 tsp of salt
Cracked pepper to taste
method
1.Saute the onions, carrots and garlic over medium heat until soft and the onion is translucent. Add thyme, rosemary and chilli and stir.
2. Add all the ingredients to the pot minus the pasta and the spinach/greens and cook until then vegetables are 'al dente', not soft, then add the pasta and cook another 10 minutes until the pasta is done.
3. Add the spinach/greens for 2 minutes until wilted into the soup. Serve with a big dollop of pesto. Add more water if you need to during the pasta cooking session.
basil pesto
yields 3/4 cup
1 cup of pine nuts, toasted
2 packed cups of basil leaves
2 garlic cloves, minced
1 tbsp of light miso paste (yellow/white/barley)
1/4 cup of nooch* (optional)
1/4 to 1/3 a cup of olive oil
1. Start with the 1/4 cup of olive oil and whizz all the pesto ingredients together in a food processor. If pesto is not thin enough add more olive oil until desired consistency. Serve on everything!
The pesto keeps in an air tight container for up to 3 days.
notes:
Nooch = nutritional yeast or 'savoury yeast flakes' as it is sometimes called. You can buy at any health food store it adds a cheesy flavour. Fresh miso paste can be found at asian supermarkets (and sometimes regular).