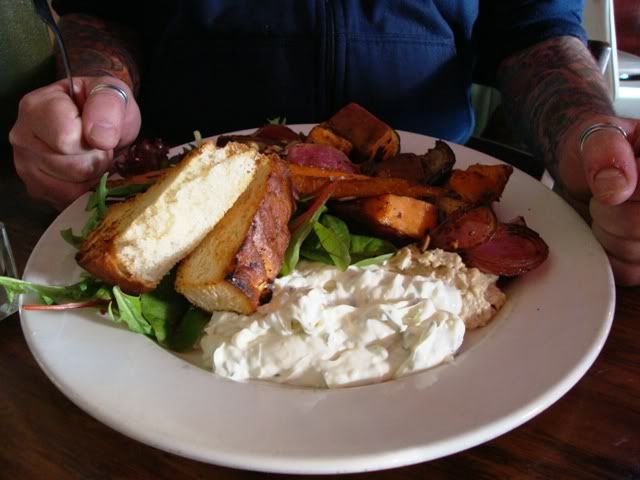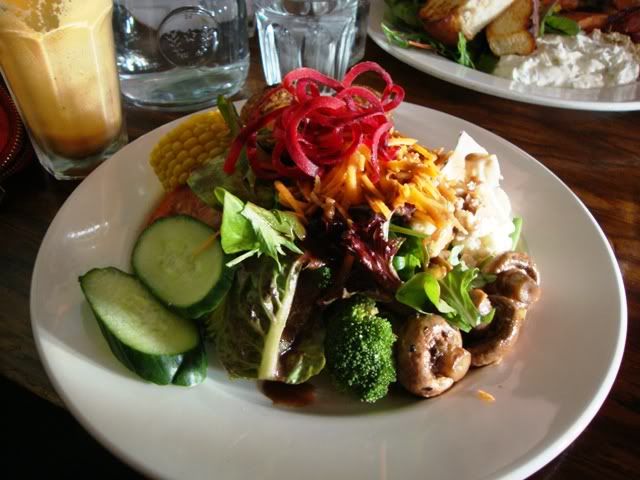 Ahh the Vegie Bar. I cant ever really say anything bad against you. I do, however pretty much get the same thing every time and its always amazing (I tend to steer clear of their asian dishes, never as good as the real thing). House salad with rice balls, a massive salad of raw vegies, beans/legumes and their brown rice balls with homemade peanut sauce. Bill got my usual winter meal which is the vegie roast with dips. I also always get an immunity juice and I think Bill had the power cleanser. Add a pot of tea and an espresso and we waddled out of there $20 lighter each. Insanely cheap, cheerful meal. I lived on Rose st for a year and I can pretty much bet I ate *something* there everyday. Sit in the window for some amazing people watching (is there an actual 'ugly' person in Fitzroy? I practically window lick when I'm there) or sit in the adjoining room to enjoy the last of the late night summer sunset. Teh hearts my love, the vegie bar.
Deets: 378 Brunswick St Fitzroy, 03 9417 6935 http://www.vegiebar.com.au/
$$: house salad with rice balls, vegie roast with dips, 2x large fresh juices, 1x tea, 1x espresso, $40.20.