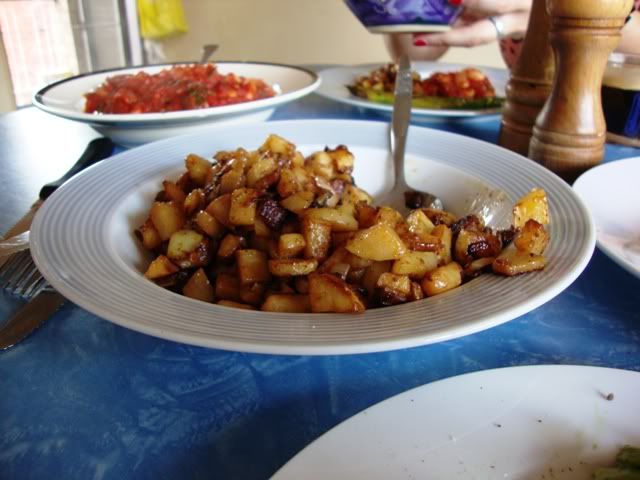 I hosted my first brunch on Sunday and it was a feast. The timing was a little stressful (keeping 4 dishes warm, I had prepared 2 the night before but had to make two in the morning) but it all ended up spectacularly well. This was the all out super fattening dish, we all need greasy potatoes on a Sunday morning.
Recipe straight from "
In the Garden of Vegan
"
ingredients
2 potatoes, roughly cubed
1, onion, roughly chopped
1 tbsp of olive oil (I ended up using way more)
2 tsp of all purpose seasoning (recipe to follow)
1/4 tsp of pepper (I used more)
1/4 tsp of salt (I think I used about 3!)
some fresh parsley, chopped
1 hot chilli, sliced
all purpose seasoning
2 tbsp chili powder
2 tsp of onion powder
2 tsp of cumin
2 tsp of garlic powder
2 tsp oregano
1 tsp paprika
1 tsp salt
1/2 tsp cayenne

method
1. In a large non-stick frying pan on medium heat, saute the potatoes and onion in oil for about 8-10 minutes (mine needed way longer) until potatoes can be pierced easily with a fork. Stir in the remaining ingredients and saute for an additional 2 minutes.
notes:
I also added 3 cloves of sliced garlic with the onions, but I'm crazy like that. If I had them on hand I would have mashed roasted garlic cloves into it.