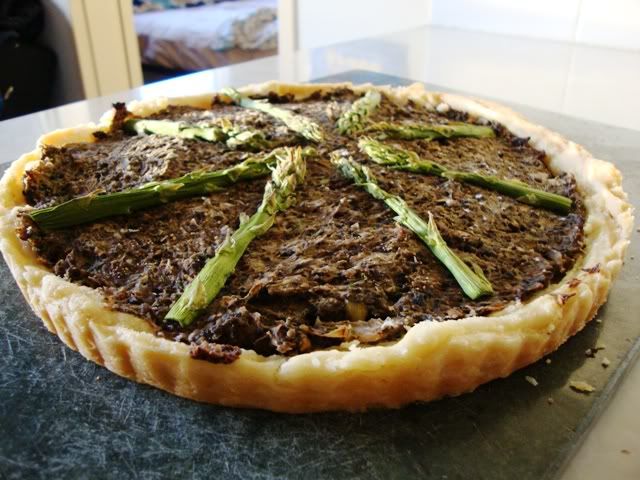 Hi, I'm Carla, and I'm a pie-a-holic. Probably not the best to cook anything in this heatwave, but I couldnt get this pie out of my mind since getting Isa Chandra Moskowitz's new tome -
Vegan Brunch
. I'm also trying to cut down my tofu (well soy in general), so a tofu-less pie recipe really appealed. Ok, things that happened:
1st: my pastry 'dough' ended up being pastry 'smear' even after putting it in the freezer for an hour. I think the combination of overworking the dough and the heat melted the margarine too much. I had a hunch it would still work, so I smeared it into the pie base and moulded it into a pie shape and blind baked it. I found the mixture too much for my pie tin (it states a 9inch pie tin but every recipe I've used for those measurements the crust has been too much so I'm guessing my tin is a weird size/too shallow) so I scraped a bit out the bottom to make the dish deep enough for the filling. All I'm sayin' is, don't get disheartened if your pie dough isnt firm, it will probably still work out anyway, and our result? The flakiest, butteriest pastry you've eaten since you stopped eating croissants.
(thanks to the work of the readers! apparently the recipe was printed wrong and it should only be a 1/4 of marg not 1 1/4 glaring error! - I have made this recipe correct).

2nd: I didn't have any walnuts but I did have mountains of fresh asparagus (can a get a hollar at spring y'all?!) so I did a straight swap.
3rd: I am no doubt going to get kidney disease from the amount of salt I eat, but I found this recipe too under salted (under seasoned all round) and added a fair bit. Obviously make to the recipe and see if you think it needs more.
Recipe direct from
Vegan Brunch
pastry crust pie base
1 1/2 cups of flour
large pinch of sea salt
1/4 cup of chilled margarine
5 to 6 tbsp of ice cold water
method
1. Sift the flour and the salt into a large mixing bowl. Add the margerine in small chunks to the flour. Use a pastry knife (I use my food processor and pulse slowly with the egg whip attachment) to cut it into the flour until it resembles coarse crumbs. Add the water in tablespoons until the pastry begins to hold together. Gather it into a ball (or in my case smear it into a bowl), wrap with plastic wrap and chill in the fridge for 45 minutes.
mushroom, leek, asparagus and white bean pie
500 grams of mushrooms
2 tbsp olive oil
3 cups of thickly sliced leek
3 garlic cloves, chopped
Heaped tbsp of fresh thyme leaves
Fresh black pepper
1 cup of shelled walnuts
1 can of cooked cannellini beans, rinsed
1 to 2 tbsp of water
3/4 tsp of salt
A few sprigs of thyme for decoration
1. Preheat the over to 180 degrees. Roughly chop the mushrooms, set aside a few slices for decoration if you want.
2. In a large, heated skillet, saute the leeks in the olive oil for about 3 minutes on medium heat. Add the mushrooms and saute for about 7 minutes, until the moisture has released and they're nice and soft. Add the garlic, thyme and pepper (I also added 3 thinly sliced asparagus spears at this point) and saute for another minute, remove from heat.
3. Bake your pie shell for 10 minutes (poke the shell with a fork a few times so it doesn't rise, I found mine rose a lot! so maybe weigh it down with some blind beans inside baking paper) and remove from oven.
4. Pulse the walnuts in a food processor until fine crumbs form. Add the beans and a tablespoon of water and blend. If the beans aren't blending easily, add another tablespoon of water. Add the salt. Blend until the cornstarch isn't visible.
5. Add the leek mixture to the food processor (be careful its still hot!). Pulse a few times, you don't want it to be baby food, you still want to be able to see chunks of mushroom and leek.
6. Spoon the mixture and smooth down into your pie shell. Decorate with sprigs of thyme, pieces of mushrooms or in my case some asparagus spears. Bake in the over for 40 minutes. Let cool before serving (it says 30 minutes but who the hell can wait for that?). This pie tastes awesome cold too. Bon apetite!