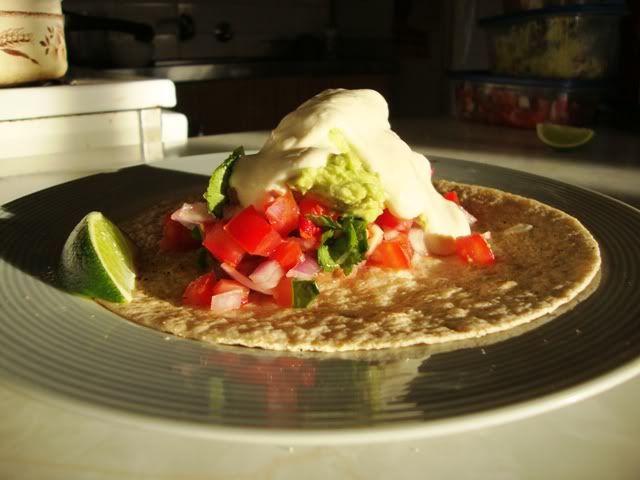 Mexican, so full of freshness! Salty, hot, bitter, sour, smokey, TASTY.
Fry up a torilla in a pan until it goes a bit brown and puffy, turn over and spread some cheezly over the top and let it melt yum yum! Then:

Beans
As you cant get black beans in a can here (wtf) I soak a cup of them overnight, rinse and then cook until tender. Season with a bit of salt and pepper. Black beans are SO good for you! If you cant get black beans I cook up some kidney beans in a can of diced tomatos and splash in some tabasco/lime juice/chipotle/liquid smoke/whatever.
then

Some cooked brown rice (I dont, but its traditional)
then:
guacamole
2 ripe avocados
1/4 cup of diced tomato
1/4 cup of diced spanish onion
Juice of one lime
Salt
Mash the avacado and stir in the other ingrediants. Add salt to taste.
then:

pico de gallo (or salsa whatever)

10 roma tomatoes (or whatever kind you like), I gut them then dice
2 cloves of garlic, slice/crushed/diced/whatever
Handful of fresh corriander (I just roll up and snip with a pair of scissors)
A splash of tabasco or chipotle
1/4 cup of spanish onion, diced
Squeeze of lime juice
Salt and pepper
Toss all the ingredients in a bowl, season to taste.
Top with
tofu sour cream
, serve with tabasco, chiptole and a wedge of lime.