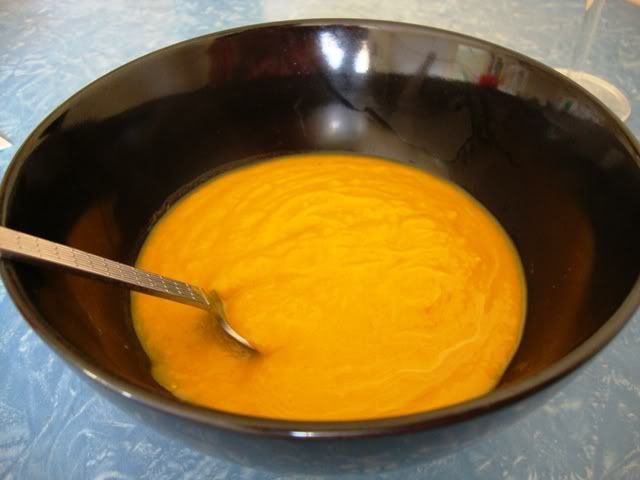 My spin on such things, I go by taste a lot and rarely measure, I just throw it all in so I'm sorry if the measurements are vague, but you all seem to be established cooks so you generally get what I mean.
ingredients
1/2 a pumpkin (I used Kent, but prefer butternut or Japanese blue), sliced thinly
1 tbsp of red curry paste
3 cloves of garlic, sliced
1 brown onion, diced small
1 carrot, diced or sliced
1 potato sliced thinly
6 cups of vegie stock
1/4 cup of coconut milk (you may need more to mellow out the heat of the curry paste)
method
1. Fry the onion and garlic in a little bit of olive oil until translucent. Stir in the red curry paste, until heated through, then add stock. Stir until combined, taste. See if the curry paste is too spicy or not enough, add what you think it needs.
2. Then add the pumpkin, carrot and potato. Add more stock if the water does not cover the vegetables. Cook until the pumpkin is tender. I drain off most of the liquid (if you whizz it up as it is it would be too watery) then whizz it. With the soup stock, I freeze it to be used again in another soup, its full of flavour.
3. Stir through the coconut milk, serve with a bit of cracked pepper. The yummiest pumpkin soup you will ever eat.