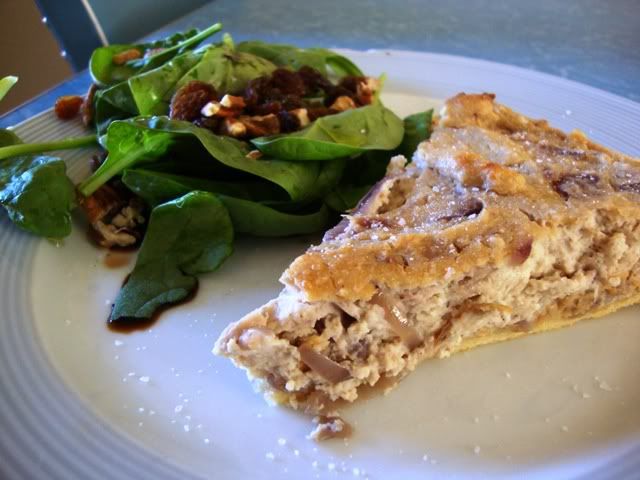 Another winner from
Vegan Brunch
. This quiche was bursting with deliciousness, I couldn't stop eating it or fantasising about eating it. I used the Pampas 25% less fat short crust pastry sheets (ninja vegan) though you can of course make your own. I find the sheets don't exactly line a 9" pan but a little bit of creative trimming and pasting gets it filled. I added a few splashes of liquid smoke (hickory flavour) and a tsp of chipotle which gave this quiche a tongue tingling flavour burst. Le swoon le sigh. I really really want to get Veganomicon now.
ingredients
2 tbsp of olive oil
4 large spanish onions, medium dice
3/4 cup of raw cashews
1 tsp of salt
1/4 tsp of nutmeg
200gm extra firm tofu
method
1. Preheat the oven to 180 degrees. Prepare the pie crust into your pie dish and poke the bottom with a fork about five times to prevent from puffing up.
Blind bake
for 10 minutes until the crust takes on a little colour.
2. In the heaviest bottom pan you have cook the onions in a little oil until they go translucent. Cover with a lid and cook for 20 minutes (with a little hole for the steam to escape). Check on the onions and give them a little stir every 5 minutes or so. By the 20 minute mark they should be a light pink colour (or deep golden brown for regular onions). Take off the lid and cook on medium until all the water has mostly evaporated.
3. Meanwhile, process the cashews in a food processor into fine crumbs. Add the salt and nutmeg. Give the tofu a squeeze to get rid of some of the moisture, then crumble into the food processor. Process until relatively smooth then add about half the cooked onions and pulse a few times. At this point I also added liquid smoke and chipotle.
4. Mix the remainder of the onions through by hand and them smooth into the prepared pie crust. Bake for 40 minutes, until the edges of the pie are lightly browned.
This pie is great cold, room temperature, warm or hot. Seriously, and the flavours change at each temperature. Addictive. You could also sprinkle a heaping of Cheezly on the top if you're feeling extra decadent.