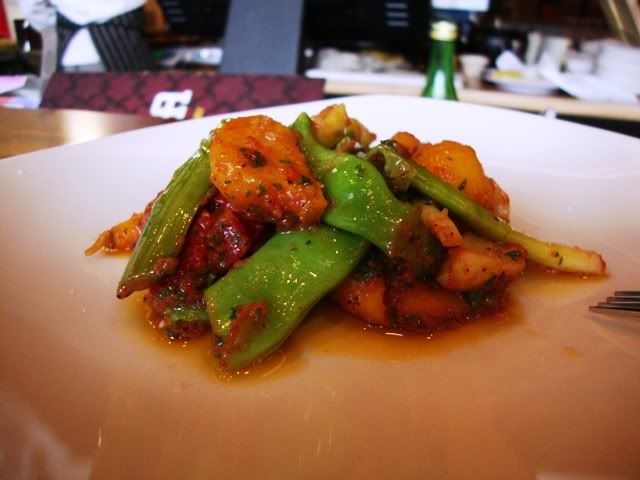 Not normally somewhere you would think to go as a vegan, and I kind of feel guilty asking these dishes to be veganised. Every time I have been there however it has been waved away with a 'no problem' and a friendly smile. Wonderful. I think we're all aware of how much I adore Frank Camorra and his attitude toward food and dining.
Bravas
- A Movida favourite, the spicy, full flavoured tomato sauce smothered on the crispy pan fried home fries. Delicious. Served with the mayo on the side for your omni friend if you want.
Enslada de Tomate
- Seriously, how can tomatoes taste this good? Fresh slices of organic tomatoes, with oregano, olive oil, pepper and some pickled slivers of onion (I could be wrong with this ingredient). The sweetness of the pickled onions with the salty tomatoes and the burst of heat from the pepper is eye rollingly amazing. This is what sums up Movida to me, that I day dream about slices of tomatoes for days afterward. Simple , fresh ingredients used at their best and dressed simply. Divine. Served with the tuna on the side.
Menestra
- Another flavour popping, smoky , slow cooked plate of orgasm. Fresh broad beans, brussell sprouts, potatoes, snow peas braised in a smokey tomato sauce. The jamon served on the side.
All served with fresh sour dough/rye/other assortments of bread. You will squabble over the last bits to mop up the sauces with. Thankfully they give you as much bread as you like. With oil and salt as I always request. The service is friendly, knowledgeable, magic genie and most of all every single person there seems to really believe in their product. Its an environment that cant help be contagious. Sitting at the big communal benches is best, I feel like I'm having Sunday lunch with my Maltese family. Te quero Franco, te quero.
deets:
500 Bourke St. Bookings, enquiries - phone the office: (03) 9663 3038
$$:
$11 bravas, $16 ensalata de tomate, $14 menestra, $3 each espresso, glass of wine between $10 and $15