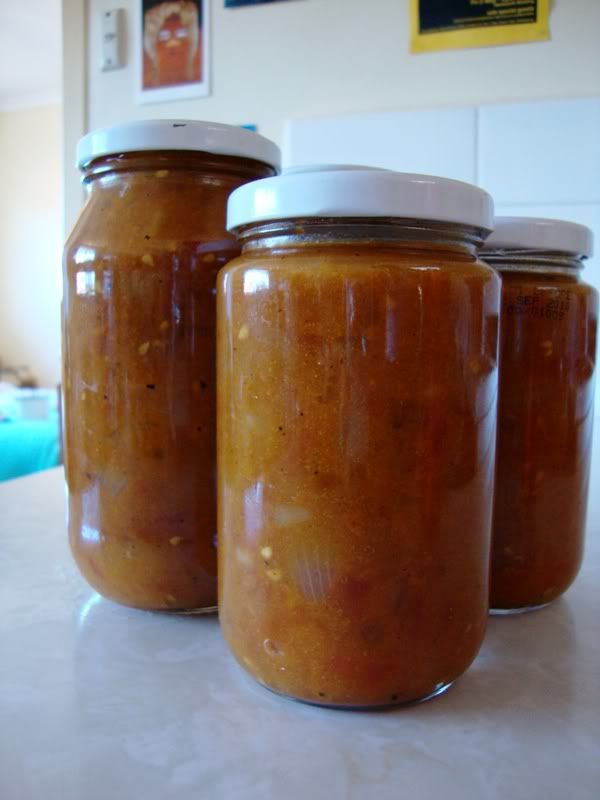 My nanna passed away two years ago and this was one of her signature goodies that she would make the family. She told me this was the first thing she learned to cook when she was just married, "I couldn't boil water before that darl". She always closely guarded the recipe and was designated relish maker in the family. I think she loved feeling useful and loved making something that was so coveted by everyone. On my birthday I made her relish so I could feel close to her, its no where near as good as she made it but it made me happy. She used slather this on bread and toast it with cheese. I'm sure cheezly in this will be awesome. Its making me sad I gave away my jaffle iron! I'm sharing this with you so you all can have a piece of my nanna.
ingredients
16 medium tomatoes
1.5 cups of malt vinegar
1.5 cups brown sugar
1.5 tbsp of mustard
1.5 curry
1 tsp ginger, cumin, chilli powder, pepper
2 tsp salt
4 onions
2tsp cornflour

method
1. In a large bowl submerge tomatoes in just boiled water for 5 minutes. Carefully tip out the water and replace with cold water. Let sit for another 5 minutes. The skins should come off the tomatoes easily, peel all tomatoes, "top and tail" them and the roughly chop.
2. In a large stock pot, sweat onions until clear. Add all ingredients and simmer for about 40 minutes.
3. In a small bowl make a slurry with the cornflour and a few tbsp of water. Then add to the relish and cook on a high boil for a few minutes, the cornflour should thicken the relish.
4. Prepare your jars while the relish is cooling down. Clean all jars and lids really well making sure there is no leftovers from what was in the jar before. Fill to the brim with boiled water and let cool until you can handle jar easily. Tip out boiled water. For most jams and chutneys, they are already preserved and should be ok without proper sterilisation of the jars. I've been doing this for a while and have had no jams or relish spoil, its only with canning and preserving fruits in liquids that you should really worry about proper sterilisation. Fill the jars and clean off any spillage. With a clean cloth wipe the lips of the jars and inside the lids with vinegar and seal tightly. Should keep 3 months in the fridge no worries, though I did find a jar that I'd made a year ago and it was fine so use your judgement.