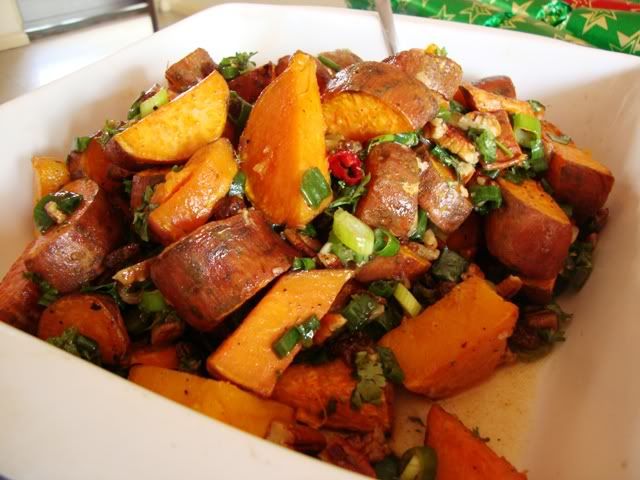 From Yotam Ottolenghi (again)
ingredients
2 sweet potatoes (about 850g in total)
3 tbsp olive oil
35g pecans
4 spring onions, roughly chopped
4 tbsp roughly chopped parsley
2 tbsp roughly chopped coriander
¼ tsp flaked chilli
35g sultanas
Salt and pepper
dressing
60ml olive oil
2 tbsp maple syrup
1 tbsp sherry vinegar
1 tbsp lemon juice
2 tbsp orange juice
2 tsp grated fresh ginger
½ tsp ground cinnamon
method
1. Preheat the oven to 190ºC. Start with the sweet potatoes. Don't peel them! Cut into 2cm cubes, spread out on a baking tray and drizzle with the olive oil. Sprinkle with some salt and pepper, mix well with your hands and roast in the oven until the potatoes are just tender, about 30 minutes. Turn them over gently half way through the cooking.
2. In a separate tray, toast the pecans in the oven for 5 minutes. Remove and chop roughly.
3. While the potatoes are roasting make the dressing. Whisk together all the ingredients in small bowl. Taste and add salt and pepper in needed.
4. When the potatoes are ready, transfer them to a large bowl while still hot. Add the spring onion, parsley, coriander, chilli, pecans and sultanas. Pour the dressing over and toss gently to blend, then season to taste. Serve at once or at room temperature.
This was mouthwateringly delicious. Srsly.