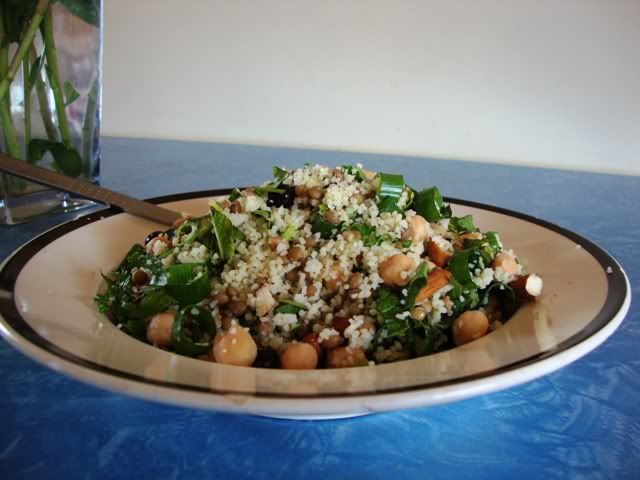 Recipe by Yotam Ottolenghi
ingredients
225g couscous
1/2 tsp saffron strands
salt and black pepper
260ml boiling water
150g cooked chickpeas (tinned are OK)
150g cooked Puy lentils (I used tinned)
80g dried cranberries
1 red endive, cut into 1cm-thick slices (I used spanish onion)
2 spring onions, thinly sliced
4 tbsp chopped mint
3 tbsp chopped coriander
3 tbsp chopped parsley
Grated zest of 2 lemons
1 garlic clove, crushed
1 tsp nigella seeds (I didnt use these, didnt have time to source them)
4 tbsp olive oil
I also toasted a handful of almonds and roughly chopped them
method
1. Put the couscous in a shallow bowl. Add the saffron and a pinch of salt to the boiling water, and pour this over the couscous to cover. Wrap the bowl in clingfilm and set aside for 15 minutes, so the couscous soaks up the liquid. Remove the clingfilm, fluff up the couscous with a fork, then set aside to cool down.
2. Transfer the cold couscous to a mixing bowl, add the chickpeas, lentils and cranberries, and toss. Add the endive, spring onion, herbs, lemon zest, garlic and nigella seeds, stir gently to combine, then stir in olive oil and season to taste.
3. Serve this salad straight away, or chill it for up to 24 hours; the flavours actually improve over time. Before serving, bring back to room temperature and add more olive oil or seasoning as necessary.