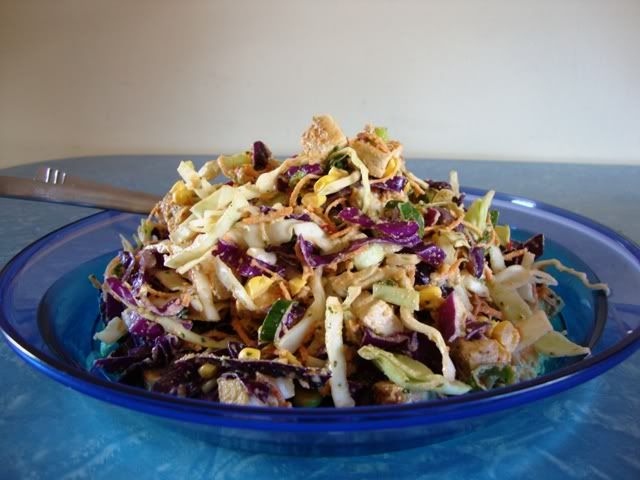 recipe from the Real Food Daily Cookbook
sesame peanut dressing
2/3 cup of creamy peanut butter
1/3 cup of brown rice vinegar
1/4 cup maple syrup
3 tbsp water
2 tbsp of tamari
1 tbsp fresh ginger, minced
2 cloves of garlic, minced
1 1/2 tsp of toasted sesame oil
1 1/2 tsp crushed red pepper flakes
1 cup of lightly packed corriander leaves
Whizz!
yin yang salad
4 cups of shredded cabbage
3 cups of shredded red cabbage
2 carrots, shredded
4 shallots, thinly sliced
1 cup of peanut dressing
4 cups of cubed tofu (shallow fried or steamed however you like)
2 tbsp of toasted sesame seeds
Toss. Easy Peasy!
notes:
I make this salad tonnes in summer, add cashews or walnuts instead of peanuts really experiment with the ingredients for the satay sauce. I also add the kernels of a fresh cob of corn to the salad too, gives it a fresh sweet burst. Here is a photo of the whole feast together. It was amazing.