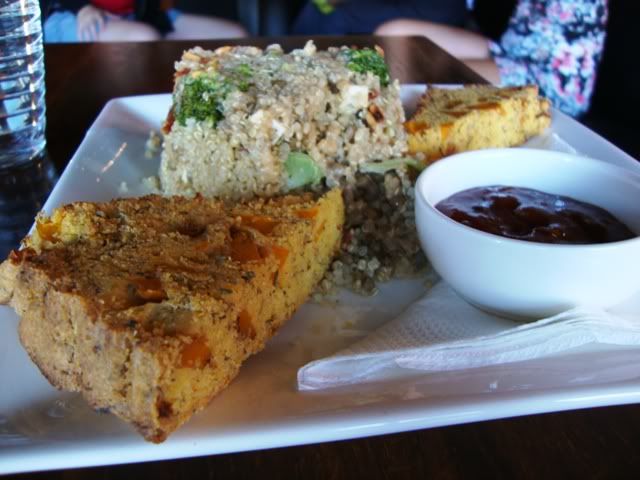 Polenta, sweet potato and rosemary pie with smoke tofu and broccolini quinoa salad
I've been uninspired with my cooking over the past couple of weeks so I'm scraping the bottom of the barrel when it comes to posts, so you will only see restaurants I think for a while (I seriously have been living on frozen veg stir frys for the past fortnight). Anyway I had this a month ago and its been waiting to go up.
The pie didn't look like much, but I've been trying to expand what I'm eating (and also do gluten free whenever it is an option!) but the polenta pies looks were deceiving. This was totally delicious, served with sweet and spicy home made tomato relish. I chose to have the salad of the day as opposed to the generic 'soul salad' as I just cant go past that quinoa salad! So tasty with sun dried tomatoes, smoked tofu, lentils, quinoa, broccolini and a mystery dressing that is tangy and subtle but oh so yummy. Working on a factory with only hospital food available to me in the canteen (the only vegan option is steamed vegies or hot chips every lunch) to be able to get a ride into Port Melbourne and eat at Bowl of Soul really makes working in Port worth it.
Deets: 118 Bridge St Port Melbourne 9645 2470
$$: It was extra for the salad of the day but I ended up taking half of it home and eating it for dinner (too much food!) $16


For previous Bowl of Soul antics:
One
Two
For other opinions:
Heres The Veg One
Two
,
Melbourne Veganesque