I fear that I am becoming a shut in. I've been through a lot in the past couple of weeks, a couple of key relationships in my life had completely blown apart and I am slowly having less and less friends. Very sad and disappointing, but what can you do. I'm sick of compromising myself so people can feel better about their neuroses. These days I'm a one on one type, no pubs, no gigs, just me and you a bottle of wine and some good food.
Eats/Drinks
Trippy Taco
(link to Joyces HOT review)
I was disappointed with my trip to Trippy Taco this time. Everyone banged on about the Tofu Asada taco/burritos which I tried but didn't like it as much as the usual fare I eat there. My meal was also cold by the time it came out. It was still delicious but I would have liked it hot! It was nice to snuggle in there on a such a rainy night though. Review with pictures to come.
Other vegerati reviews -
Wheres the Beef?
and
Vegan about Town
The Grace Darling
I love this pub and generally end up there whenever I'm in Collingwood. Had a few quick ciders post Trippy Taco, I love the staff, my mate Russ is co owner so I like to support my friends whenever I can.

The Vegie Bar
I found myself in Fitzroy not once but TWICE this weekend. I had planned to go to Yongs Green food, but somehow both times I ended up at the Vegie Bar! The first time I didn't have my camera with me but I got the Gado Gado which was much nicer than I remembered and the second time I got my usual house salad with rice balls. I also took home the most massive piece of gf vegan chocky cake which was SERIOUSLY delicious with some sort of crunchy toffee in the chocolate frosting middle layer. Woot woot!
Von Haus
Waiting, with it pouring rain, to go to my eyebrow appointment, I grabbed a packet of mochi and headed to Von Haus for a coffee. I love you Von Haus. Marry me.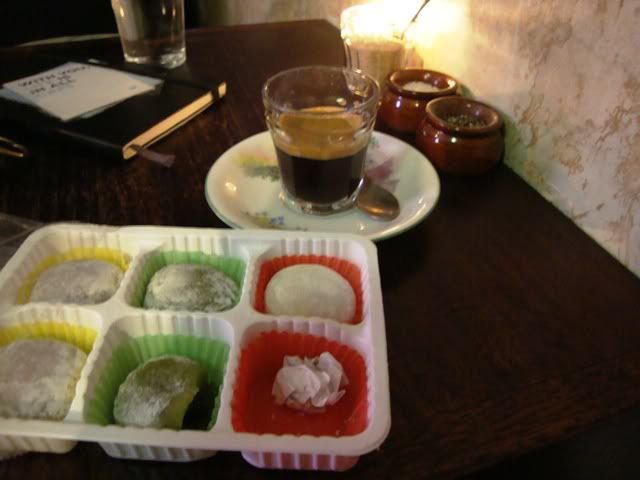 The Tenth Muse
Review with pictures to come.
Bopha Devi

Review here.