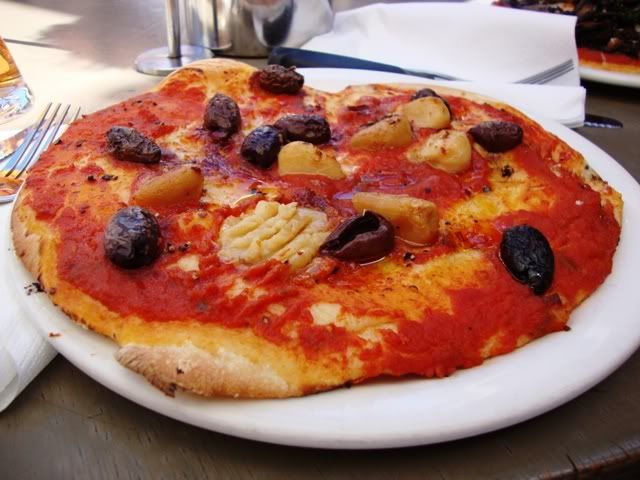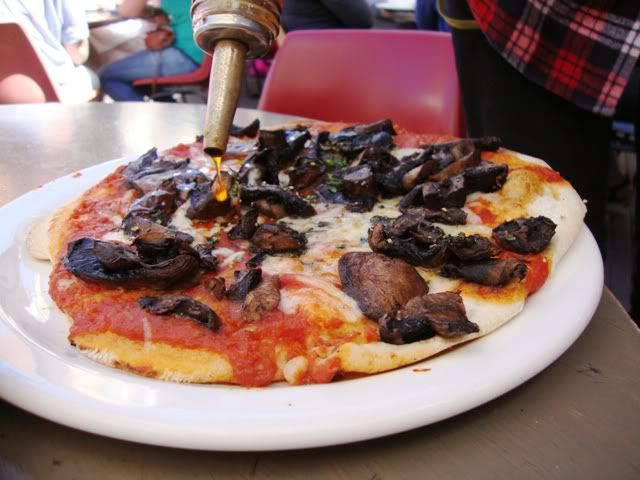 $4 pizzas!!! enough said right?! now now please no stupid "it used to be the Punters club therefore I refuse to go there because they are WANKERS WHO ARE RUINING MELBOURNE", please, get over yourselves. The Punters Club sold up and moved on, they are they ones who should be incurring your wrath not delicious delicious pizza.
I get the Napolitana minus anchovies and capers, young Dave got the fungi which he also enjoyed immensely (the "Organico" with soy cheese - the cheese is not vegan FYI). Roasted garlic, chilli, red sauce and olive, its SO DELICIOUS. Add the gorgeous roof top, a sunny day and a schooner of Bulmers and it was a perfect Monday lunch. $4 pizzas are between 12-4pm Monday to Friday and after 7-11pm Sunday to Thursday and Saturdays 7-9pm, but if you join their membership program ($5 for life) you can get $4 pizza whenever you want.
If you've got the day off and you want to have a hot tight arse day have $4 pizza for lunch then mosey over to Nova in Carlton for tight arse Monday and see a movie for $6 before 4pm ($8 after 4pm). Pizza and a movie for $10. Bargain.
deets: cnr Brunswick st and Rose St, Fitzroy http://www.bimbodeluxe.com.au/
$$: $4!! (they obvs make their money on booze which is expensive and they dont sell pints, however you dont have to buy it)