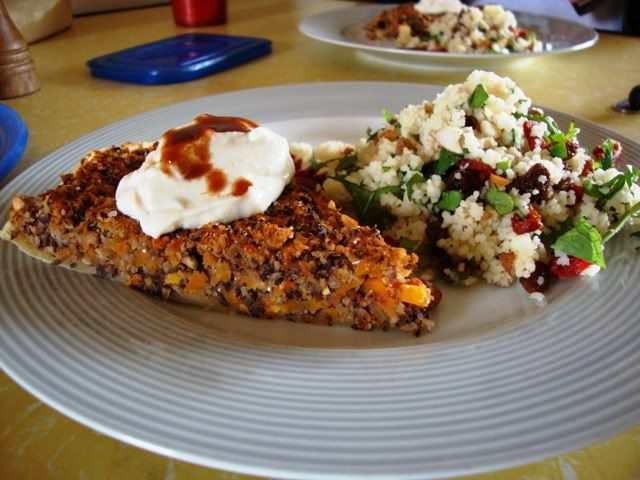 A word of warning, this recipe was originally for a black bean soup recipe. This makes about enough filling for 2x 9inch pies, so I would cook one and freeze one OR make enough for one bean pie and keep the stock and make black bean soup with the rest! The black bean soup recipe was originally from the
Real Food Daily Cookbook
.
ingredients
2 cups of black beans
2 bay leaves
6 cups of vegie stock
1 can of tomatoes
1 tbsp of tomato paste
6 cloves of garlic minced
1 onion diced
2 large carrots diced
1/2 cup of corn kernals
2 tsp chilli powder
1/2 tsp cumin
1/2 tsp cayenne pepper
1 tbsp liquid smoke
1 tsp of chipotle
1/4 of a cup of chopped corriander
method
1. Soak the black beans overnight. Rise thoroughly picking out any stones or weird ones. Put onto the stove with the stock and bay leaves, bring to a simmer and leave for an hour, skimming off any foam that comes to the top. Once they are cooked, drain.
2. In a heavy bottom pan, fry up onions, garlic and carrot for about 10 minutes until the carrots start to soften. Add the rest of the ingredients and simmer until the flavours are mixed about 10 minutes. Transfer half of the bean mixture into a food processor and pulse. Spread into a 9" pastry lined pie pan. Cook for about 40 minutes. I served with lime tofu sour cream and chipotle.
Pictured with
handful salad