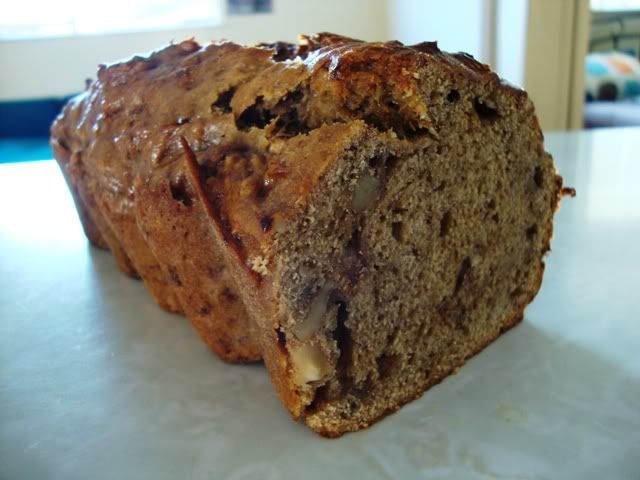 Another winner from
Veganomicon
ingredients
2 large or 3 small very ripe bananas
1/4 cup of applesauce
1/4 cup of oil
1/2 sugar
2 tbsp molasses
2 cups of flour
3/4 tsp of baking soda
1 tsp of cinnamon
1/4 tsp of nutmeg
1/2 tsp salt
method
1. Preheat the oven to 180 degrees. Lightly grease a 9x5 inch loaf pan.
2. In a large mixing bowl, mash the bananas really, really well. Add the sugar, apple sauce, oil and molasses, and whisk briskly to incorporate.
3. Sift in the flour, baking soda, spices and salt. Use a wooden spoon to mix until the wet and dry ingredients are just combined. Fold in the chocolate chips if using.
4. Transfer the batter to the prepared pan and bake for 45 to 50 minutes. The top should be lightly browned and a knife inserted through the centre should come out clean. Remove from the oven and invert onto a cooling rack; flip the bread right side up and cool.