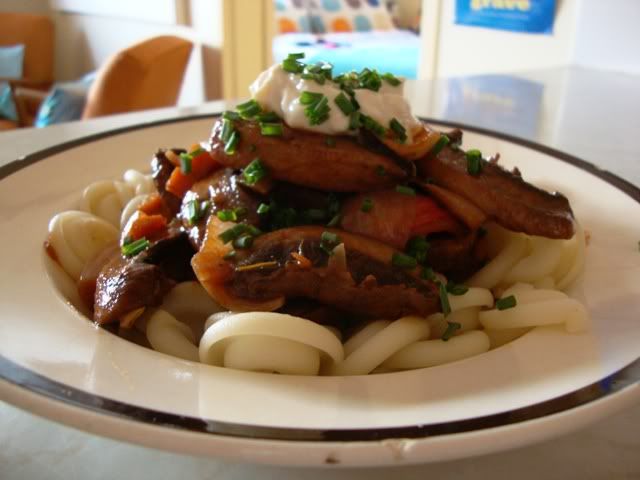 This was the most mouth wateringly delicious recipe I've tried out in years. Seriously. Do yourself a favour. I served over the Orgran wheat free pasta spirals and they were delicious. Recipe verbatim from
Smitten Kitten
(LOVE DEB, she is pretty much the only omni chef I follow these days).
ingredients
serves 4
3 tablespoons margarine
1 kg portabello mushrooms, sliced thickly
1/2 carrot, finely diced
1 small brown onion, finely diced
2 cloves garlic, minced
1 cup red wine
2 cups vegetarian beef stock
2 tbsp tomato paste
1 tsp fresh thyme leaves
1 cup pearl onions, peeled
cooked short pasta, sour cream and chopped chives for serving
method
1. On high heat, saute the mushrooms in half of the margarine until they start to turn colour - about 4 minutes. Set the mushrooms aside in a bowl.
2. On medium heat add the remaining tbsp of margarine and fry the carrots, onions, thyme and a good seasoning of salt and pepper until the onions have started to brown, around 10 minutes.
3. Add the garlic and saute for another minute. "De glaze" the pan with the wine then mix in the stock and tomato paste and cook on high until the liquid has reduced by half. Add the mushrooms and simmer on low, stiring every couple of minutes for 30-40 minutes, until the sauce has become thick and the mushrooms tender. Add the pearl onions and simmer for 15 minutes. If your sauce is too thin let simmer until it achieves the desired consistency.
5. Season to taste and serve with a dollop of tofu sour cream (optional), a sprinkle of chives on top of your noodles.
notes:
Stews like this is where having a heavy bottom cast iron pan (or a slow cooker) is REALLY handy. You can do this in a stock pot but you will have to watch it like a hawk so bits and pieces don't get stuck to the bottom. This is my go-to wow meal for omnivores, it will become yours too.