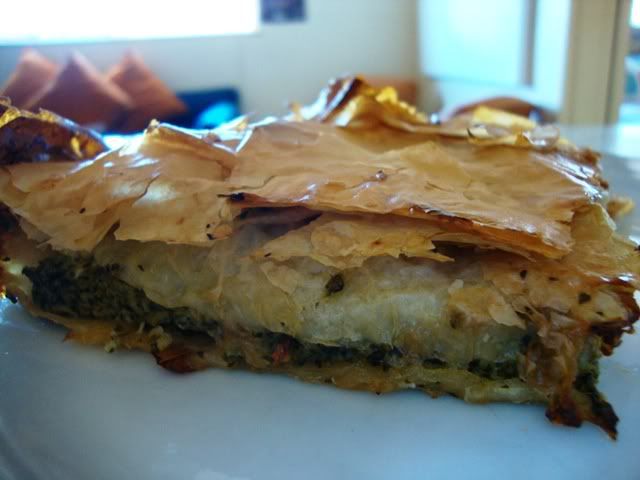 Tofu ricotta recipe from
The Voluptuous Vegan
ingredients
500 gm of tofu (firm) - (I used 2 x packets of water packed tofu which was 600gms it was fine)
3 tbsp of olive oil
2 tbsp fresh lemon juice
1 tsp salt
3 tsp of mellow barley or white miso
2 cloves of garlic sliced
2 tbsp soy cream cheese
some steamed spinach (I used an entire bag of baby spinach)
Filo pastry (for the pie)
Olive oil
method
1. Steam the spinach until wilted, rinse and squeeze as much water as you can out of it. Drain the blocks of tofu on paper towel, weighted down with cans on a plate for 10 minutes, changing the paper towel when necessary.
2. Whizz all the ingredients (minus the filo). Voila!
3. Leave the filo pastry on the bench whilst you are doing this so it softens, then working quickly (leaving a damp cloth on the filo you are not working with - it goes crusty and mank within about a minute!) get about 2 or 3 filo sheets then paint on a layer of olive oil, be sure to oil the edges as well. I use about 2 or 3 layers of this for the bottom, then smooth the tofu mixture into the bottom. Places 2 or 3 sheets on the top and seal the edges together then repeat for the filo lid with the oil and filo sheets. Oil the top and sprinkle on some salt. Bake at 200 for about 40 minutes (until the top turns all brown and crusty). Tasty as.
notes:
I've cooked this a couple of times and its always gone pretty soggy on the bottom. I dont know how to fix this! I'm thinking scramble the tofu on the stove for 10 minutes until all the moisture is gone? I will try again and let you know. Not sure about the soy cream cheese in it, again will try another tasting but leaving it in for now.