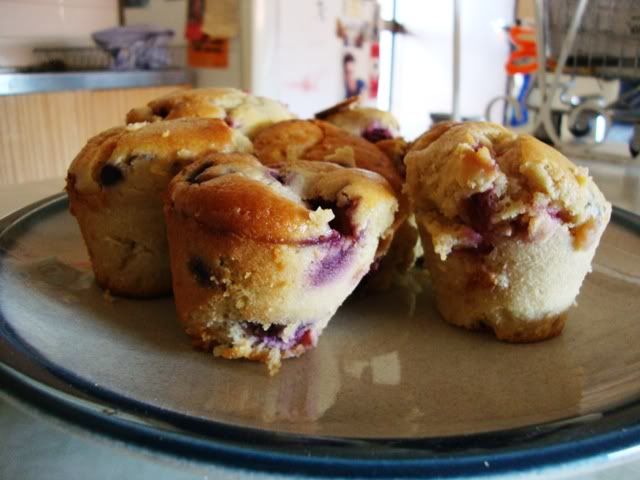 I'm obvs into the baking lately. Especially weekend sweet brunchy treats. I really liked the creamy yogurty texture of these and they're really quite low fat in comparison to other muffins. A packet of frozen berries serves you so well on the weekends, put them straight into a smoothie, muffins or pancakes. Its always best to use them straight out of the freezer and into the oven/smoothie/pancakes.
Recipe from 100 Best Vegan Baking Recipes
ingredients
2 1/4 cups plus 2 tbsp flour, divided
3/4 cup of sugar
1 tbsp of baking powder
1/8 tsp of salt
1 1/4 cups of milk
1/4 of cup plus 2 tbsp of oil
1/2 cup plus 2 tbsp of yogurt
1/2 tsp of vanilla
1 1/4 of berries (fresh of frozen)
topping
(I didn't have enough left over flour to do this step - so your muffins will look different to mine)

1/4 cup of flour
2 tbsp of sugar
2 tbsp of margarine
method
1. Preheat oven to 400 degrees. Lightly grease 12 regular or 6 jumbo muffin cups with margarine or oil or line with paper liners.
2. For the batter: In a large bowl, combine 2 1/4 cups of flour, sugar, baking powder and salt. In a medium bowl, combine milk, oil, yogurt and vanilla.
3. In another bowl toss blueberries with the remaining 2 tablespoons of flour. Add wet ingredients to dry ingredients and mix until just combined. Add berries and gently combine.
4. For topping: In a small bowl, mix flour and sugar and cut in margarine with a pastry cutter or with your fingers until mixture is crumbly.
5. Spoon batter into muffin tin, filling each cup until almost full. Evenly sprinkle topping on each muffin. Bake for 15 to 20 minutes for regular muffins or 20 to 25 minutes for jumbo, until muffins are golden and a toothpick comes out clean. Cool for 10 minutes in the pan and then transfer to cooling rack and let cool completely.