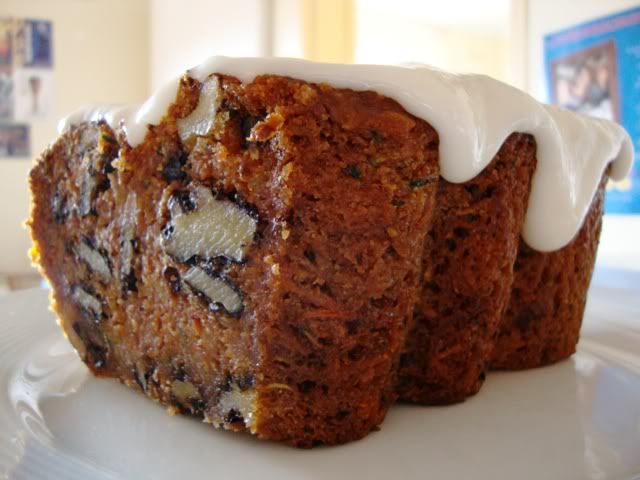 I made this with gluten free flour and it was my best GF success to date. I didnt squeeze the juice out of the veggies as I figured gluten free needs all the moisture it can get. I also didnt measure the veg, I just grated 1 medium zucchini and carrot and a four small apples.
Recipe from the
Sydney Markets
website.

ingredients
2 cups of self raising flour
1 tsp of bicarb soda
1/4 tsp salt
1 tsp of cinnamon
1 cup of sugar
3/4 cup of roughly chopped walnuts
3 eggs lightly beaten (I used egg replacer, you could use a small mashed banana or half a cup of mashed tofu)
1/2 cup of oil (your choice)
1 cup of grated carrot
1 cup of grated zucchini (squeezed to the remove the juice)
1/2 cup of grated apple (squeezed to remove the juice)
method
1. Preheat oven to 180 degrees. Grease and line a deep loaf pan.
2. Sift flour and bicarb soda, salt and cinnamon into a large bowl. Stir in sugar and walnuts.
3. Combine egg replacement and oil in a jug. Mix egg mixture, carrot, apple and zucchini into flour mixture until well combined. Spoon mixture into prepared loaf pan. Smooth top. Bake for 50 minutes or until a skewer inserted into the middle comes out clean. Cool in pan for 10 minutes then turn onto a wire rack to cool. Ice!

cream cheese icing
I read quite a few recipes on the web, which calls for a tub of toffutti cream cheese (I use the Kingland stuff where possible I think its much nicer) and 1 cup of icing sugar. I just added icing sugar until it was a consistency I liked (I think about 3 cups). It was a BUTTLOAD of icing and iced 3 cakes so beware!