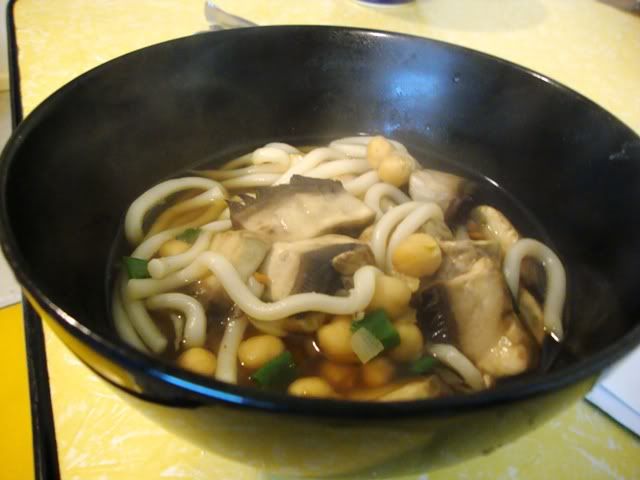 This is vegan comfort food at its best. Slurpy noodles, soup, chickpeas, herbs. It really hits that 'ahh' spot. Sorry for the terrible photo. Another winner from Veganomicon.
ingredients
2 tbsp olive oil
1 large onion thinly sliced
1 cup of peeled, thinly slice carrots (really thin)
2 cloves of garlic
2 cups of mushrooms thinly sliced
1/2 tsp black pepper
1/2 tsp of celery seeds
(I didnt have these)
1 tsp of thyme
1/4 tsp of dried rosemary
2 tbsp of mirin (optional)
1/3 cup of brown rice miso
(I used vegie stock instead)
6 cups of water
(or vegie stock)
2 cups of drained, cooked chickpeas
1 packet of cooked thick asian noodles
(I used soba)
method
1. Saute the onions and carrot in the oil for about 10 minutes (I always find mine are cooked quicker).
2. Add the garlic and mushrooms, herbs and saute for another 5 minutes. Deglaze the pot with the mirin (or just a splash of water).
3. Add the 6 cups of water and the chickpeas, cover and bring to the boil. Once add the boil, leave to simmer until all vegies are cooked, chuck in the noodles for the amount of time they need to cook. Add the miso and stir until its incorporated.
I then threw in a couple of thinly sliced spring onions.
Mmmm vegan comfort food.