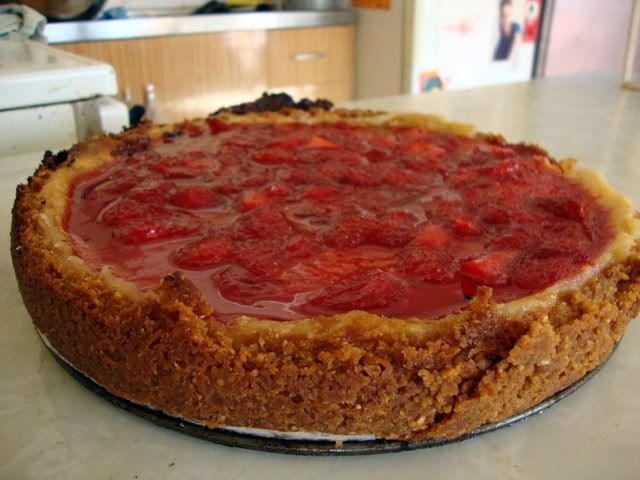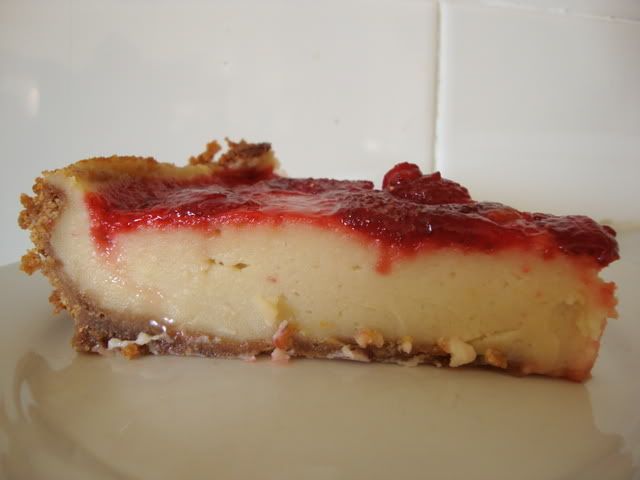 Adapted from
Smitten Kitchen.
This was fraught with a fair bit of nail biting, so please read the recipe before you decide to tackle it but if you do, it will be the most amazing post vegan dessert you've ever eaten. You're welcome.
crumb crust
1 packet of biscuits, ground
8 tablespoons of margarine*, melted
1/2 cup sugar
1/4 teaspoon salt
cheesecake filling:
4 packages of Kingland cream cheese, softened
1 3/4 cups sugar
3 tablespoons all-purpose flour
zest one lemon
6 egg replacers
1/2 teaspoon vanilla
berry topping
1 punnet of berries or a cup of frozen
2 tablespoons lemon juice
1/4 cup sugar
1 tablespoon cornstarch
1/2 cup water*
first things first, make the biscuit crust:
1. Whizz biscuits in a food processor until the crumbs are fine. Gently mix margarine, sugar and biscuits together until you get a dough. Press the crust into the bottom and up the sides of a deep dish 9inch spring form pan stopping one inch shy of the top. Voila! Your cheesecake crust is now ready for your filling.
2. Next pre heat oven to the highest it will go (original recipe says 290 Celsius but I had success at 250). Beat together cream cheese, sugar, flour, vanilla, egg replacer and zest until smooth. That's it! Pour into prepared pie crust, peeling off any crust that the filling does not reach. Bake in pan or place a pan underneath (seriously do this step! There can be some major leakage from this cheesecake) in the middle of the oven for 12 minutes or until it starts to puff. Reduce the temperature to 200 degrees and continue baking until cake is mostly firm about one hour more (mine was done at 50 minutes). Your cake will still be wobbly in the middle to the outer edges but browning on top.
3. Run a knife around the top edge of the cake to loosen it and cool the cake completely in spring form on a rack, then chill it, loosely covered. Mine was set within an hour though the longer you can wait the better.
4. Make berry topping (optional): Bring all ingredients to a boil. Once mixture is boiling, cook for an additional one to two minutes then remove from heat (I had to 'reduce' a lot longer for it to be syrupy for me, so maybe dial back the amount of water, especially if you use frozen berries). Cool completely.
5. Once cheesecake has set in the fridge, top with berries and wow your peeps.
notes:
I used Orgran egg replacer, Kingland soy cream cheese, both of these are widely available in large Safeways and Coles (see my vegan substitutes post on best places to find these http://northsideladies.blogspot.com/search/label/Vegan%20Substitutes). I recommend using half the amount of margarine for the biscuit base, then adding if it is too dry. Peeling off the crust that the filling doesn't reach means there is not gross burned as fuck crust on your pan to peel off later. At the 50 minute mark mine was browning on top but still very wobbly when shaken, I opted to take it out then anyway and it worked out, a vegan cake isn't going to bake that firm.