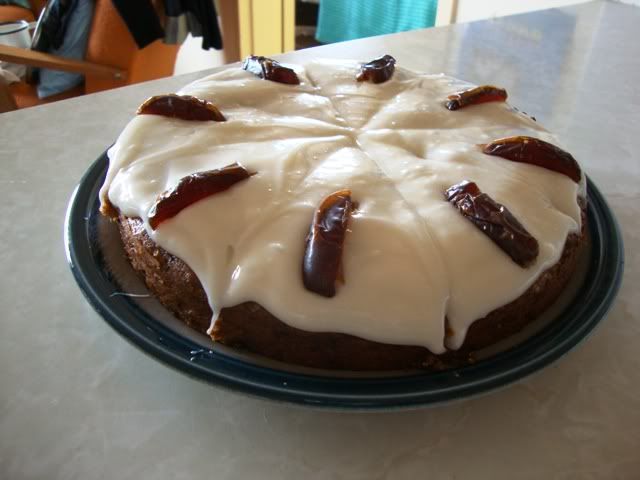 My entry for the vegan bake off.
ingredients
300 gms of fresh dates, pitted and roughly chopped
1/2 cup of water
30 ml of whiskey
125gm of margarine
1 cup of sugar
2 egg replacer
1 tsp bicarb soda
1/2 cup of milk
200 gm of self raising flour
pinch of salt
2 tbsp of demerara sugar
method
1. Preheat oven to 180 degrees. Grease and line a 20cm spring form tin with baking paper.
2. Cook dates in the water until soft and liquid is absorbed. Stir whiskey through.
3. Beat marg and sugar until light and fluffy. Beat in egg replacer. Add dates and combine. Add bicarb of soda to milk and stir through batter to combine.
4. Fold through flour and salt and pout into tin. Sprinkle with demerara sugar and bake for 30 mins or until a skewer comes out clean.
5. Remove from tin and cool on wire rack.

notes:
I wouldn't recommend icing this like I did, I think it took away from the simplicity of this cake.