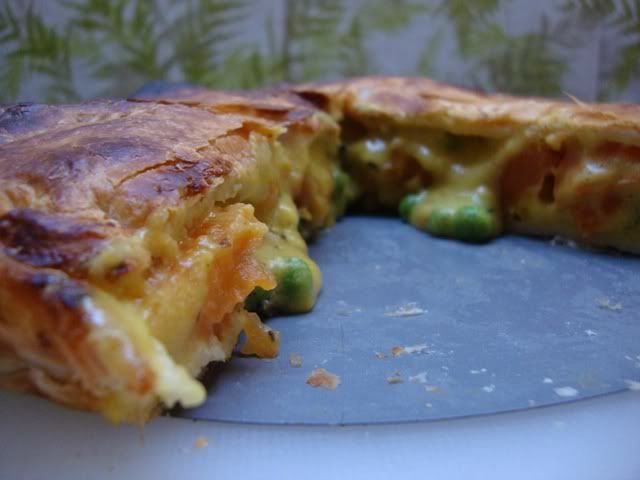 Mm its that time again. Roast vegies, pies, roast vegie pies. I really REALLY missed cooking while I was away and it was nice to get cracking in my new houses COMPLETELY MASSIVE kitchen. I cubed into bite size pieces cauliflower, broccoli, garlic and sweet potato, tossed them lightly in some olive oil, salt and pepper and roasted at 200 degrees celcius until the vegies started to brown on the outside (the broccoli will burn but is a taste sensation, if this is not your thing remove from the oven before they start to blacken). Line a pie pan with pastry, throw in a handful of frozen peas (or whatever frozen veg you have lying around), slather in cheesy sauce, pop a lid on it and bake for at 200 degrees until golden crisp deliciousness (about 20 minutes).
cheezy sauce (from memory from Veganomicon)
ingredients
1/4 cup unbleached flour
3/4 cup nutritional yeast
2 cups stock
2 tbs olive oil
3 cloves of garlic, minced
1 tbs yellow mustard
1/8 tsp of tumeric
2 tbsp of lemon juice (I didn't use this and it still tasted amazing)
method
1. Sweat garlic in olive oil until just starting to turn. Warm the stock with the garlic then slowly whisk in the flour. Add the rest of the ingredients and stir continually over medium heat until sauce reaches desired consistency (about 5 minutes for a thick sauce).
notes:
My hopes were not high for this sauce recipe. How wrong was I! Simply delicious. I used a mild mustard (djion) which gave it the kick I like. For the uninitiated, Nutritional Yeast Flakes (or Nooch as Vegans lovingly refer to it) can be purchased at any health food store (and some Safeways). I used Homebrand puff pastry (
ninja vegan
) and organic vegies from my
Mooreland Co-Op vegie box
. Bon Appetite!