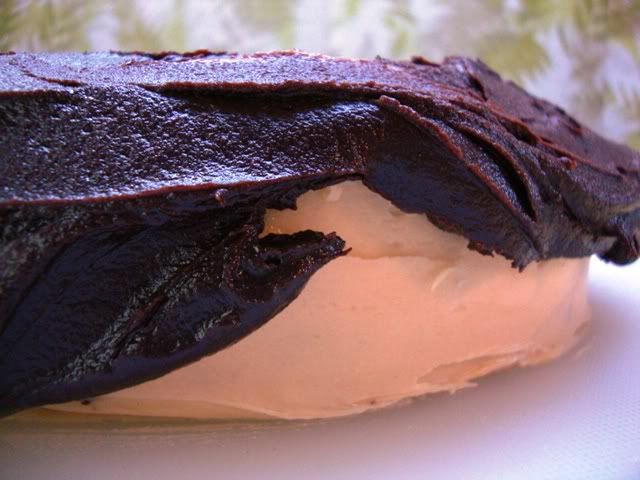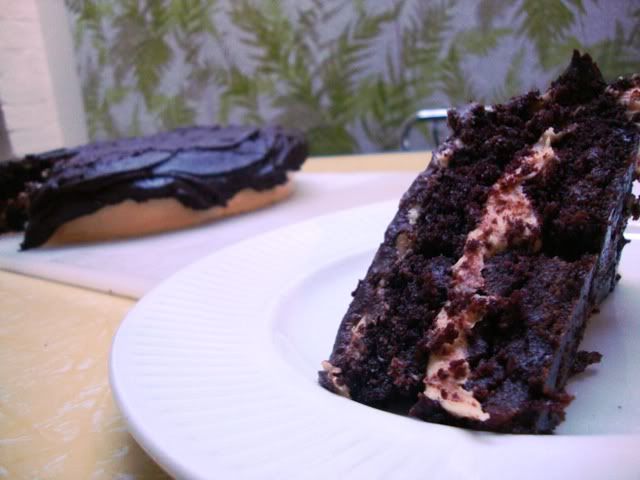 I am still in diabetic shock from making this behemoth of a cake. Filed away in my mind are crazy jobs that I reserve for very special occasions and my blog-aversary was the perfect excuse. This cake is retardedly rich. I just ate a sliver and I've felt sick for hours. Definitely a show piece and my neighbours are going to love me when I take this baby out doing the rounds tonight. Incidentally the chocolate cake recipe is the most moist, delicious, finger licking chocolate cake I've ever eaten.
You're welcome.
Veganised by me from Deb at
Smitten Kitchen
who then took the recipe from
Sky High: Irresistable Triple-Layer Cakes
.
Makes an 8-inch triple-layer cake
2 cups all-purpose flour
2 1/2 cups sugar
3/4 cup cocoa powder
2 teaspoons baking soda
1 teaspoon salt
1 cup neutral vegetable oil
1 cup mashed Japanese soft tofu
1 tsp of mirin
1tsp of sushi seasoning
1 1/2 cups water
2 tablespoons distilled white vinegar
1 teaspoon vanilla extract
2 egg replacers
1. Preheat the oven to 180 degrees C. Prepare 3x 8inch round baking pans.
2. Prepare the tofu sour cream by mashing the soft tofu until it resembles runny scrambled eggs then mix in the mirin and sushi seasoning. Sift the flour, sugar, cocoa powder, baking soda and salt into a large bowl, mixing well. Add the oil and tofu sour cream and whisk to blend. Gradually beat in the water. Blend in the vinegar and vanilla. Whisk in the egg replacers and beat until well blended. Divide among the 3 prepared cake pans.
3. Bake for 30 to 35 minutes, or until a butter knife inserted into the centre, comes out clean. Let cool in the pans for about 20 minutes. Carefully invert onto wire racks and let cool completely. Once cool, wrap tightly in plastic and put into freezer for about an hour.
4. To frost the cake, place one layer, flat side up, on a cake stand or large serving plate. Spread 2/3 cup cup of the Peanut Butter Frosting evenly over the top. Repeat with the next layer. Place the last layer on top and thinly coat the outer cake with frosting. Refrigerate cake for about an hour whilst leaving the frosting out of the fridge. This sets the cake and crumbs and enables a perfect finish. Once the cake is set finish frosting.
5. To decorate with the Chocolate–Peanut Butter Glaze, put the cake plate on a large baking sheet to catch any drips. Simply pour the glaze over the top of the cake and spread it evenly over the top just to the edges so that it runs down the sides of the cake in long drips. Refrigerate, uncovered, for at least 30 minutes to allow the glaze and frosting to set completely. Remove about 1 hour before serving.
Peanut Butter Frosting
1 tub of soy cream cheese, at room temperature
1/2 cup of margarine, at room temperature
5 cups confectioners' sugar, sifted
1 cup smooth peanut butter
1. In a large bowl with an electric mixer, beat the cream cheese and margarine until light and fluffy. Gradually add the confectioners' sugar 1 cup at a time, mixing thoroughly after each addition and scraping down the sides of the bowl often. Continue to beat on medium speed until light and fluffy, 3 to 4 minutes.
2. Add the peanut butter and beat until thoroughly blended.
Chocolate-Peanut Butter Glaze
225 gm dark chocolate, coarsely chopped
3 tablespoons smooth peanut butter
2 tablespoons light corn syrup
1/2 cup milk
1. In a bowl set over simmering water, combine the chocolate, peanut butter, and corn syrup. Cook, whisking often, until the chocolate is melted and the mixture is smooth.
2. Remove from the heat and whisk in the milk, beating until smooth. Use while still warm.
Notes:
So many notes! First, I haven't invested in a cake stand OR a triple pan set yet (though after this I think its well worth it). I baked in a 9 inch pan and cut it in half. Not great, the cake is super soft and was incredibly hard to handle, un-frozen. Freezing cakes is totally cool! It's a great way to frost difficult cakes or save time by baking ahead and its like a little cake freshness time machine they defrost and eat like nothing ever happened. I found the recipe for the chocolate peanut butter glaze too much, I would definitely dial it back if I ever attempt this cake again or even take it out completely. I used Orgran egg replacer and Kingland soy cream cheese. On the different kinds of tofu and preparation hit my tofu article, for dairy substitutes clicky clicky.
For other attempts at Deb goodness check out:
New York Baked Cheesecake
Dark Chocolate Tart with Ginger Snap Crust
One Year Ago:
Monday Melbourne Roundup #6