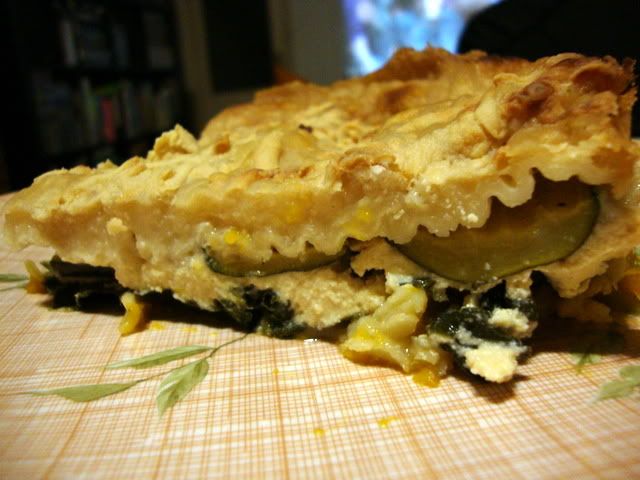 This is essentially a 'white' lasagne. I'm doing the Blood Type diet at the moment to see if it will help with my stomach issues and tomatoes/kidney beans/flour are off the list (what I usually make lasagne with). Cobbled together from bits and pieces every where and with whatever was in
my vegie box
this week. Of course its lasagne, you can layer it however you want, beets? roasted capsicum, red sauce etc. Check the notes.
pumpkin sauce (first layer)
2 cups of pureed pumpkin (I roasted 1/4 pumpkin in its skin)
1 tbsp brown sugar
1/4 tsp nutmeg
Pinch white pepper and cayenne
1/4 cup of stock
Whizz in a food processor until smooth.
grilled zucchini, spinach and ricotta layer
1 medium zucchini
half a bunch of silverbeet or english spinach, wilted, rinsed and wrung of water
1 recipe of
tofu ricotta
Slice the zucchini .5 cm thick length ways, rub with olive oil and salt and either grill or bake in a hot oven until brown-ish.
bechamel sauce (top layer)
There are many many different ways to make bechamel sauce. The authentic French way takes a million years, I don't have a million years. I combine equal amounts fat and flour (so oil or marg) usually about 1/4 of a cup of each and heat for about a minute. Then stir in about 3/4 litre of milk slowly, once it starts to boil, reduce to a simmer and this is when it should start to really thicken. You may need to add more milk or flour after a few minutes. Voila! I'm sure if you really wanted to make an authentic one or have never made white sauce before, please look it up on the web!
layering
Smooth pumpkin mixture on the bottom and add a layer of lasagne noodles. I layered the spinach first, then tofu ricotta then grilled zucchinis, another layer of noodles and finally bechamel and a sprinkling of Cheezly.
Bake in the oven at 200 for about 40 minutes or until the top browns (all the ingredients are already cooked so its just a marination/browning process).
Notes:
This was surprisingly tasty. I thought it would lack flavour or be too weird. I dribbled sweet chilli sauce on top which took it to the next level. I used Orgran gluten free lasagne sheets and flour which are both excellent.