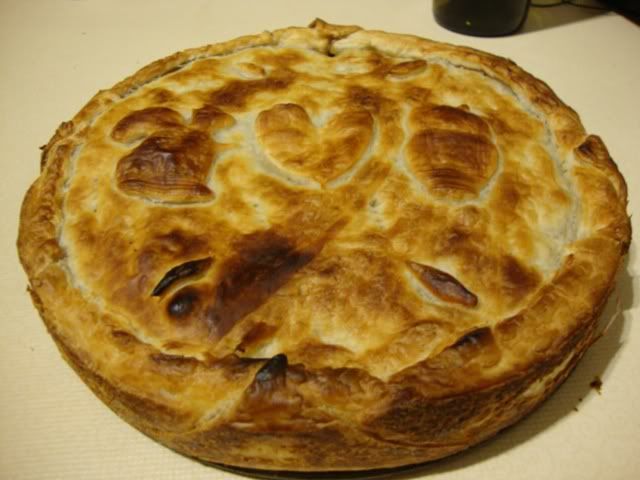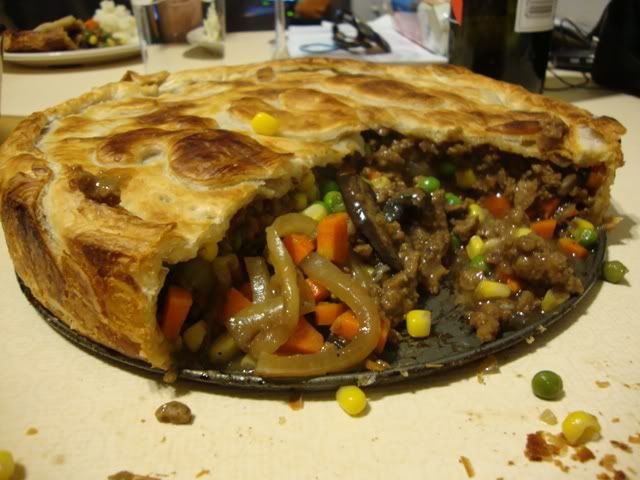 Its going to be pie crazy around these parts for a while, pop open the top button and strap yourself in.
ingredients
2 x cans of Sanitarium "Casserole Mince"
1 medium carrot very small dice
1 onion, sliced
1 large portobello mushroom sliced thinly
1 cup of frozen peas and corn (together)
3 sheets of pastry
salt and pepper to taste
method
1. Sweat the onions in a heavy bottom pan, once they start turning translucent add the mushrooms and carrot. Leave on medium heat, stirring occasionally while you potter around making the pie casing.
2. For a deep set, swoon worthy pie use a 9 inch collared pan. I needed 1 and 3/4 sheets of pastry to line the case, get creative with your cutting and pasting, making sure you seal the edges by squeezing them together (you don't want pie goodness overflowing!). By this time the mushrooms, onions and carrot should be just right, add the 2 cans of casserole mince, peas and corn to the pan and mix thoroughly.
3. Tumble into the pie casing and put your lid on top. Brush with a little melted marg or rice milk. With the left over bits of pastry you can create some decorations! (squirrel loves owl!). Bake in an oven on high (I think mine was set at about 220 c) until golden brown. For a healthful pink glow to the cheeks devour with creamy mashed potatoes, minty peas and a robust red wine.
notes:
In winter, take your pastry out of the freezer right at the beginning, it takes ages to become pliable in the Melbourne cold. To get a perfectly fitting lid sit the pan on top of the sheet of pastry and trace around it. Adding a glug of red wine or balsamic vinegar to the pan would take this to another level as would serving with homemade mushroom gravy or red sauce.