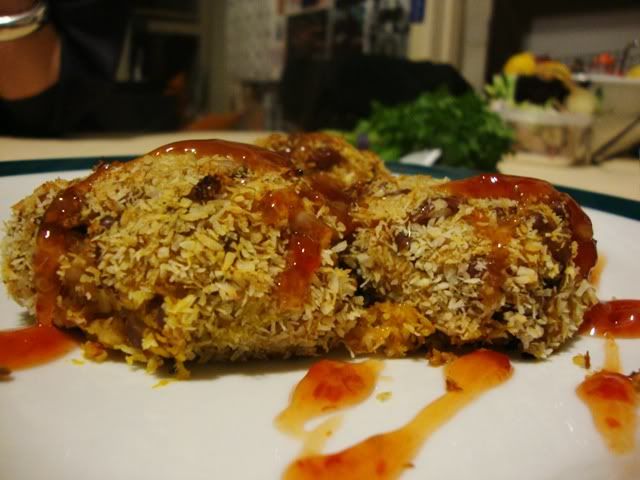 So many notes for this one. Firstly, this recipe was cruelly mentioned in
Veganomicon
but actually not in the book NOR on the
Post Punk Kitchen
website. I managed to find it through
"the Way Back Machine"
but now cannot find it again so its going to be off the top of my head. Secondly, I didn't make the tamarind sauce this time as Clare hates coriander, but I implore
YOU
to do it! It would be the perfect PERFECT flavours to add to this. If you hate coriander like Clare, I served these with sweet chilli sauce and it was delicious. Don't let the ingredients fool or intimidate you, essentially it is a squash, a grain and a bean. You could substitute either of those for something you feel more comfortable with/have in the cupboard.
ingredients
1/2 cup of
adzuki beans
, cooked and lightly mashed
1 cup of roasted pumpkin, completely mashed
1/2 cup of
bulghur
, cooked
1/2-1 cup of coconut (shredded is best, though I used dessicated)
sauce
1/2 cup of
tamarind
paste
1 tbsp of maple syrup
2 cups of lightly packed coriander

method
1. Combine the pumpkin, bulghur and adzuki beans and form into patties (I didnt season as I had already cooked the bulghur in vegie stock).
2. Roll the croquettes in coconut and put onto a baking tray into a medium low oven (160c) and bake 15 minutes each side.
3. In the meantime whizz up the sauce ingredients and cook some rice if you're into that sort of thing (I'm not huge on rice so I didn't, I served with papadums). Serve and marvel at how delicious and easy it was!!
notes:
I added bulghur to the mix, it was not in the original recipe, I had some left over but also felt the croquettes needed something more substantial in them. The coconut flavour is surprisingly powerful which is why I recommend shredded coconut, as dessicated created more coverage therefore more coconut flavour. Soaking the beans is always a pain in the arse but I'm getting into the groove of it now. You could use any kind of beans in this, particularly green lentils out of a can if you want a quick, easy and delicious meal. You can buy tamarind paste from Asian or Indian grocery stores. Tamarind is also know as Indian dates and are quite sweet and sour. Adzuki (or known as Aduki) beans are commonly known as 'red beans' and available as asian supermarkets.