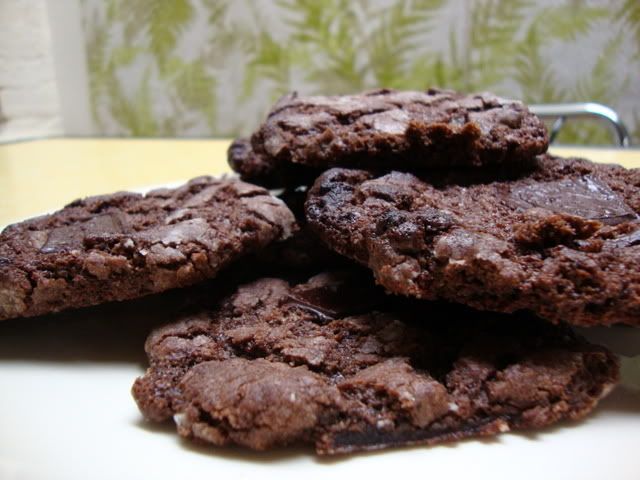 The recipe adapted from
Taste.com.au
ingredients
1/3 cup chocolate hazelnut spread
100g marg
3/4 cup sugar
1 egg replacer
1 1/4 cups plain flour, sifted
2 tablespoons cocoa powder, sifted
1/4 teaspoon bicarbonate of soda
1/4 cup pure icing sugar
method
1. Place spread and butter in a saucepan over low heat. Cook, stirring, for 2 to 3 minutes or until smooth. Transfer to a bowl.
2. Stir caster sugar, egg, flour, cocoa powder and bicarbonate of soda into chocolate mixture. Refrigerate for 20 minutes.
3. Preheat oven to 180°C/160°C fan-forced. Grease 2 baking trays. Line with baking paper. Roll level tablespoons of mixture into 24 balls. Sift icing sugar onto a plate. Roll each ball in icing sugar. Place balls, 6cm apart, on prepared trays. Bake for 12 to 15 minutes, swapping trays halfway. Cool on trays. Serve.
notes:
I used the Sweet William chocolate spread its disgusting like the rest of their products so I've been looking for recipes to get rid of it. These cookies turned out amazing. I used Orgran egg replacer and gluten free flour mix. These cookies turned out moist and delicious, a great gluten free recipe. For an advanced move I tucked in a piece of dark chocolate into each cookie before putting in the oven. Delicious!