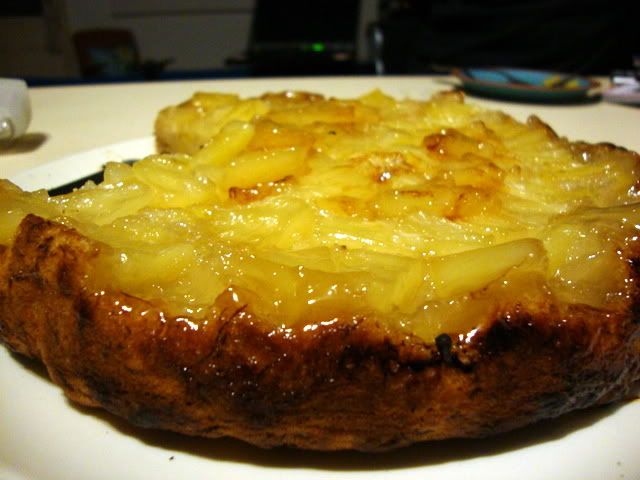 Seized by nostalgia from
Vickis recent post
on pineapple upside down cake, I started plotting immediately to make it. I had 5 bananas in the freezer from about 2 months ago, a new batch of bananas in my
vegie box
and voila! as I remembered in my Womens Weekly Kids Cookbook (that
Vegie Bug
ALSO swears by) it had bananas in the original recipe. Combine that with gluten free flour really needing a lot of moisture and a delicious cake was born!
ingredients
1 1/2 cups plain flour
1/2 cup sugar
1 teaspoon baking soda
1/2 teaspoon salt
1 cup pineapple juice/water
1/3 cup oil
1 tablespoon white vinegar
1 can pineapple slices
1/4 cup UNPACKED brown sugar
method
1. Preheat oven to 180 degrees.
2. Mix flour, sugar, baking soda, and salt in a large bowl.
3. Pour juice off can of pineapple into 1 cup measuring cup--it should be about 3/4 cup juice. Add water to make 1 cup*. In a separate bowl, combine oil, vinegar and juice.
4. Place pineapple slices into the bottom of a 12 inch spring form pan. Sprinkle with brown sugar. Quickly mix wet ingredients into dry, stirring quickly to combine ingredients well and get out the big lumps.Pour into pan on top of the pineapple/brown sugar mix.
5. Bake for 25-35 minutes or until golden on top and a toothpick inserted in the center comes out clean. Let cool and loosen sides of cake from pan. Remove side ring and place serving plate on top. Flip cake over onto serving plate and remove pan bottom.
notes:
I used pineapple chunks instead of slices. I used only the juice from the can (no added water) as I added 4 defrosted frozen bananas to the mix. I used Orgran flour mix to make it gluten free. I also didn't use a spring form pan I used silicone and it turned out great. I used demerarra sugar instead of brown and it was great too.