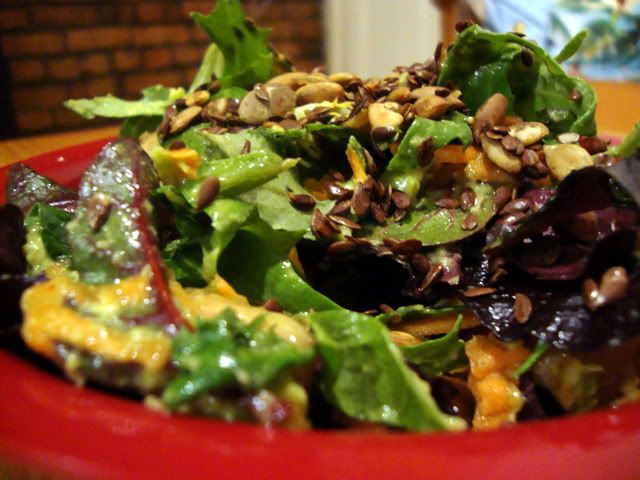 Salads are slowly creeping back into my repertoire as the seasons change and with 3 delicious organic avocados slowly going bad in my fruit bowl,
vegan yum yum
came to the rescue. I have heavily tweaked this recipe (I cant eat chickpeas) but feel free to follow the original I'm sure its as delicious as my version. For a great salad
read this post
and for more salad inspiration hit up my
salad index
!
ingredients
greens of your choice for 4-6 people
1 carrot, shredded
1 medium head of broccoli (or bunch of broccolini), chopped small
black pepper to taste
vegetable oil or sesame oil
wasabi-tamari butter beans
1 tsp oil
1 can of butter beans, rinsed
1 tsp wasabi paste
1/2 tsp maple syrup
1 tbs tamari* or soy sauce
avocado wasabi dressing
1 ripe avocado, diced
2 tsp mirin*
1 tsp seeded mustard
1/2 tsp salt
2 tsp wasabi paste
1/4 to 1/3 Cup vegetable oil
soy roasted almonds
1/4 cup of almonds, roughly chopped
1/4 cup of pumpkin seeds*
1 tbsp of tamari/soy sauce

method
1. Toss the almonds and seeds in the soy and toast in the oven on high for about 10 minutes (you will hear the sunflower seeds start to pop like popcorn, that means they're almost done).
2. Whisk the wet ingredients for the beans and cook over medium heat until beans have soaked up the liquid, put into a bowl.
3. In the same pan (dont wipe it out) drizzle a bit of oil and pan fry the broccoli until it starts to take a bit of colour (a few minutes).
4. Mash the avo until it resembles a paste and then slowly whisk in the liquid ingredients until all combined.
5. Then rinse your greens, grate your carrot and toss in the dressing. Add your beans and broccoli and sprinkle your nuts and seeds on top. Voila! TASTY!
notes:
Tamari is gluten free, soy sauce is not. I used mirin instead of white wine vinegar as it seemed more appropriate. Any kind of seeds would be great, I used a combination of sunflower, pumpkin (pepitas) and linseeds, every salad needs a 'crunch' factor. Soy roasted seeds and almonds are the most DELICIOUS SNACK EVER get into it! The original recipe calls for wasabi powder, I could only find paste. It packs a punch so slowly add if you're bit of a heat pussy. You can always add more, but cant take things back!