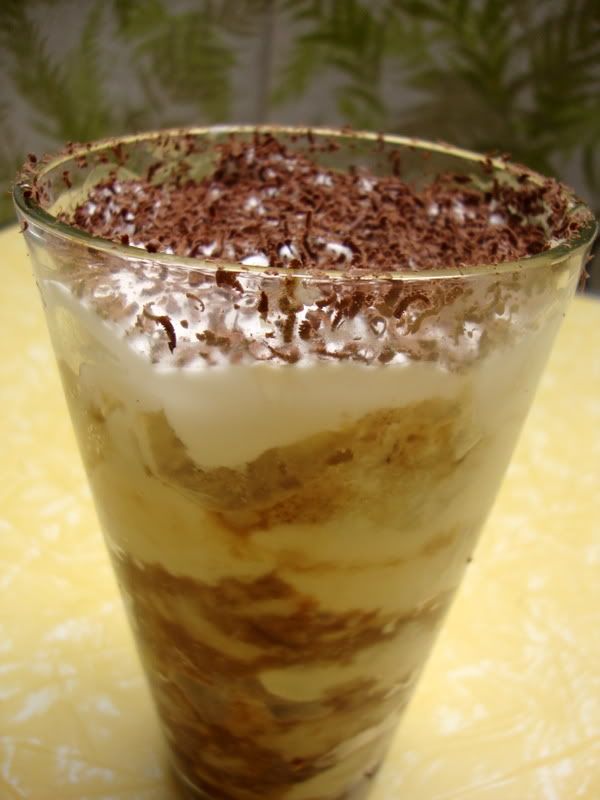 I've been obsessed with making tiramisu for some time. Look, I cheated with this and used a gluten free cake mix for the sponge base but you forgive me right? It was 9.30pm on Friday night and I just couldn't wait a moment longer. In looking around the web at other recipes (and this is the reason why I write this blog) all the other vegan recipes has so many ingredients in them, I like to keep things simple. This almost made me cry. An old favourite from my childhood, with love to you.
ingredients
1 x lot/packet/recipe of plain cake
1 x cup (250mls) of espresso (I pulled about 3 short blacks)
1 x tub of kingland cream cheese at room temperature
3/4 cup of white sugar
1 x can of coconut
cream
(refrigerated)
some booze of your choice, I used whiskey as it was all I had but
marsala
is traditional
dark chocolate shavings for serving

method
1. Spread the cake mix into a large baking/roasting pan and bake until *just* cooked (not browning on top but a knife comes out clean from the centre), leave to cool. The large roasting pan will get the cake just the right height for layering.
2. In the meantime, beat the coconut cream with an electric mixer for 5 minutes, it should thicken up but not like dairy cream. Put it in the fridge to set for at least an hour (preferably two) to thicken up. Combine the sugar into the cream cheese and pull the espressos (flavour the espresso with the booze you want to the level you want).
3. Once the coffee and cake is cooled put a layer of cake onto the bottom of a 6" spring form pan or whatever vessel you want to house your tiramisu and gently pour some of the coffee over the sponge. I always pussy out on the coffee and REGRET IT so if you like it strong you really need to get that sponge WET to the point of soggy/falling apart.
4. Spread ALL the "marscapone" cream cheese on top and repeat another layer of cake and coffee then top with coconut cream and chocolate shavings (of course if you want to make yours sky high in smaller vessels save some of the marscapone for extra layers).
5. Refrigerate for AT LEAST two hours, but the longer you leave this the more amazing it gets. I strongly suggest leaving it over night.
notes:
Its an assload of sugar but really, an assload is what it takes to get that slight taste of soy ass out of the cream cheese. Of course if you're going to put it into a 6 inch spring form pan you might as well bake the cake in that and then cut the cake horizontally in two and layer like a layer cake. Again really easy and simple, this totally blew my mind!