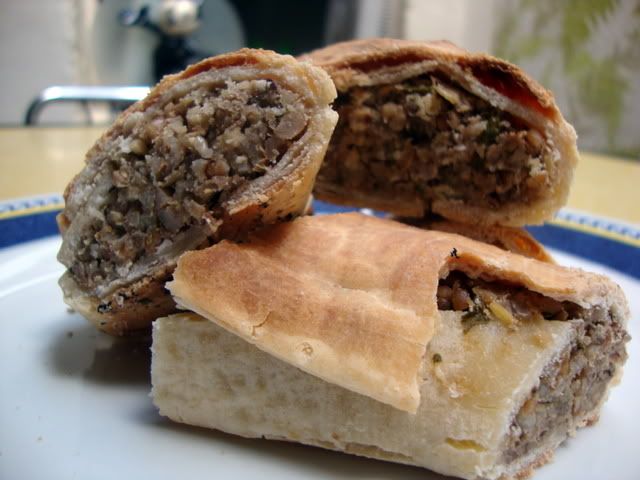 People foam at the mouth at the announcement that
Cindy and Michael
have brought their "sausage rolls" to potluck. They are so coveted that I have NEVER been able to manage to get a sample before they are all gone (yeah slow poke, too busy stuffing myself with something else no doubt). So on the weekend I decided to make some (its sausage roll weather no?) and also a good snack to pack for MIFF. I did pretty much ALL substitution as I didn't have ANY of the ingredients on hand, but these turned out UH-MAZING.
The original recipe is here.
ingredients
125g pinenuts, toasted
1 onion, diced
1/2 cup of cooked bulghur (I cooked in vegie stock)
1/2 cup of cooked lentils (again in vegie stock)
1/4 cup rolled oats
1 teaspoon garlic powder
3 tablespoons soy sauce
fresh parsley, chopped (to taste)
1 tbsp of
liquid smoke
salt and pepper, to taste
3-4 frozen puff pastry sheets, defrosted
non dairy milk or olive oil spray to brush pastry
method
1. Preheat oven to 200 degrees.
2. Pulse the ingredients in a food processor until it resembles sausage mince. Place sausage shape amount of filling along the width end of a piece of pastry and roll tightly (spraying the pastry with olive oil spray along the way so it 'seals' together when rolled over). Pack the ends with mince, you might need the end of a wooden spoon or something to get it all in there.
3. Bake for about 15-20 minutes or until golden brown. Seriously, its that easy.
notes:
Always keep pastry damp, defrost in the packet and don't open until you're ready to use it. If it is already open, put a damp, clean tea towel over the top. If you dont have liquid smoke GET SOME or a sprinkle of smoked paprika would be amazing. My oven is MUNTED, there is only 'low' or 'high' so my temps are always a bit generic you guys are smart enough to figure this all out though.