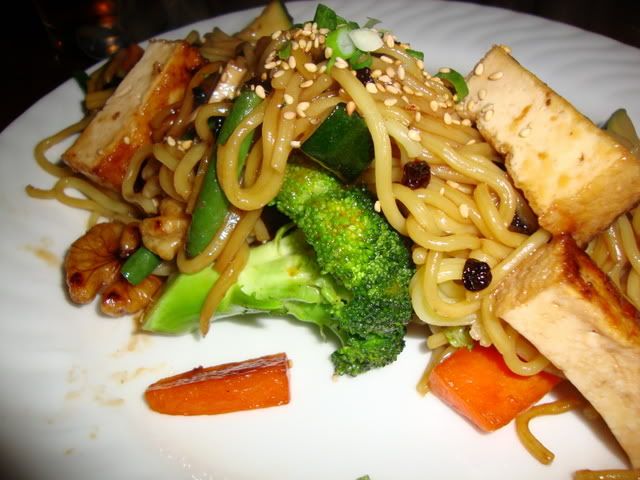 UNDER NEW MANAGEMENT - menu has changed - do not recommend
Sweet, salty, crunchy, slurpy. Mysterious, mute Japanese lady of Horse Bazaar I think I love you. Shuffling over, coy Mona Lisa smile on her face, she delicately plops 2 steaming plates of perfectly cooked vegetables and noodles in front of you, bows, then shuffles away. Tofu, sesame seeds, currents, walnuts, teriaki sauce, al dente noodles and crunchy vegetables - I'm licking my lips in remembrance and planning on going there tonight. $8 or under for most meals, the staff are friendly and unpretentious. With decent tunes and a comfy interior, Horse Bazaar you really are super fun. They do food from lunch till midnight most days.
Excuse the terrible photo, its pretty much pitch dark in there.

deets:
397 Little Lonsdale Street, Melbourne web: http://horsebazaar.com.au
$$:
donburi/noodles plates $8
Other voices, other times:
Horse Bazaar
One
,
Two