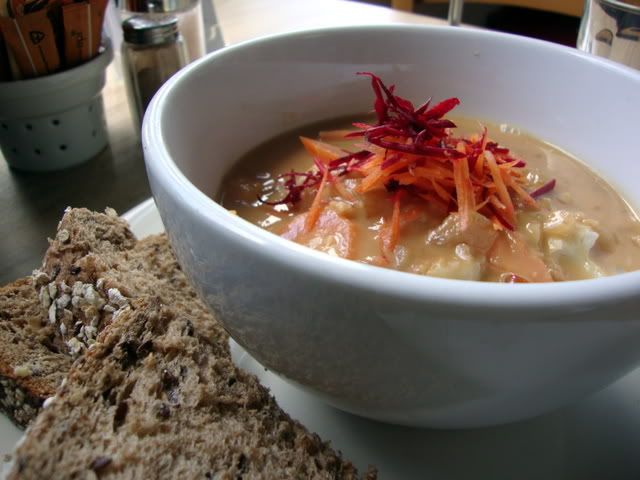 The Bluebird café is located on Dominion Rd, surrounded by heaps of great stores and near Aucklands gluten free grocery store! Clearly my kind of area. The owners/proprietors of Bluebird are followers of
Sri Chinmoy
(whom I'd never heard of until now) and run their café to offer the public good healthy vegetarian/vegan foods and basically spread the love. When you walk in you immediately feel at peace. The café is light and airy, decorated with lots of bold colours. A massive menu to choose from with all vegan options clearly labelled. The staff are beautiful, emanating light and happiness and look wonderful in their beautiful saris.
We both had a "bowl" with brown rice and "Bali High (v) – rich peanut sauce served over steamed vegetables" topping. It was so simple and delicious and just what I was craving after a few days of eating on the run. Bluebird is very much the best of what people visualise when you think vegetarian café, brightly coloured fresh food, prepared daily served with heart in peaceful, leafy surroundings. Really delicious!
A great resource I found which lead me to a lot of places was Moiras wonderful blog -
An Auckland Vegan
- Thanks Moira!
Deets:
299 Dominion Road, Mt Eden, Auckland
web:
http://www.thebluebird.co.nz
$$:
our bowls were $12NZ for a medium bowl (which was more than enough food for me)