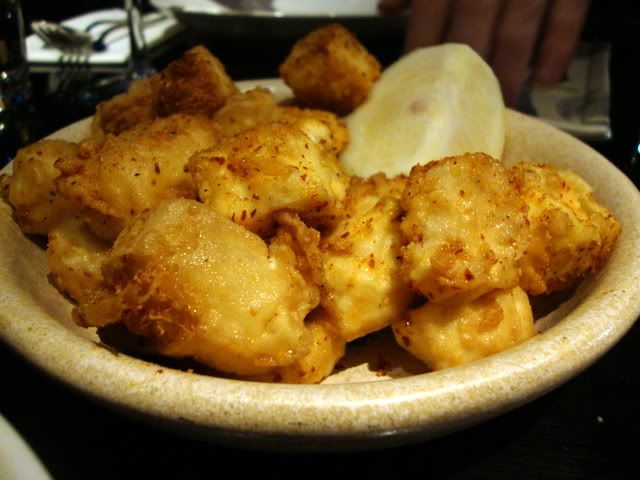 Salt and pepper tofu $15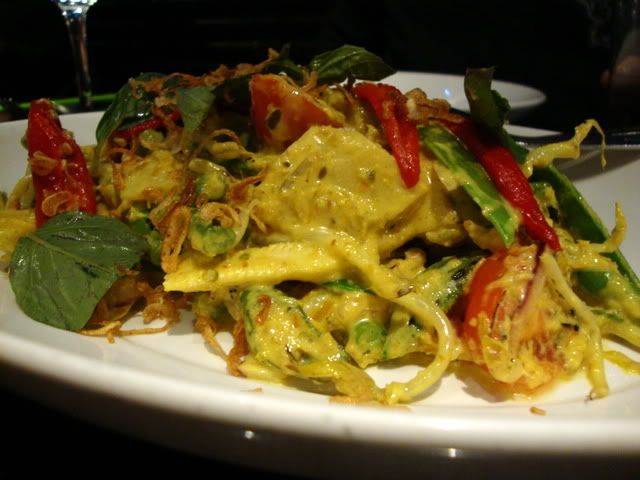 Vegetable curry $31
The first time I went to Gingerboy it completely blew me away. Sure the space is tiny and cramped and the furniture is uncomfortable and ugly, but the food and service completely blew my mind. I'm sad to say this trip really disappointed me.
We arrived at about 6.35 (the dinner sitting is for 630? Or did I get this wrong and we were half an hour late?), in any event the restaurant was full and we were one of the last tables to be seated. Most people were almost finished their entrees by the time we sat down. We waited ten minutes to have our drinks orders taken, then the waiter brought us over menus, after a long and hushed, dulcet toned spiel on the "south east asian market" philosophy of Gingerboy (really, really is this necessary?!?!) I asked what could be made vegan and was offered the vegetarian menu! (win! very impressed). We were starving by this point, I knew what I wanted but the waiter dumped the menus and ran and we weren't able to order food for another 10 minutes before we flagged someone down. The waitress took our orders and asked if we'd ordered drinks? I passive aggressively answered "apparently" she told me she would get right on it after apologising saying they were "slammed". Our drinks finally arrived and our food arrived about 15 minutes later. For a restaurant with a robust bookings policy (ie you have a 95% idea of how many people you will be serving at what time) I would expect that they would be able to staff properly as there would be no surprises. At a restaurant like Gingerboy, I do not expect to wait for anything or have to flag down a server to order food.
By then I was already soured on the experience. The salt and pepper tofu was absolutely delicious. Cripsy, salty, hot with creamy silken tofu cubes on the inside, the portion was huge. The vegetable curry (the vegetarian menu is not on their website so I cant tell you exactly what it was) was good, but was missing the full body hit it had last time. I just kept comparing the food to
Bopha Devi
and
Bopha Devi
was coming out a clear winner. We enjoyed out meals in relative peace, but obviously words had been had to our server and as things became less busy he was constantly topping up our water, asking if we wanted more wine, which was overbearing and although I felt sorry for him and appreciated what he was trying to do, it was cloying and really just sealed the deal on some pretty substandard service for the evening.
We decided to cut our losses and leave, have some wine at Von Haus instead. Or waiter apologised when bringing over the bill, saying he was sorry it took so long to get our drink orders and drinks out to us and that the first round was on the house, which was appreciated. If only Bopha Devi and Gingerboy could have a baby. That would be lethal.
Deets:
27-29 Crossley St, Melbourne
$$:
surprisingly cheap I think our bill with 2 entrees, one main and one drink came to $65
Other voices, other times:
Jeroxie believed Gingerboy was hit and miss
Joyce from Mel: Hot or Not gave it a firm HOT
Food Rehab - another hit and miss review
It pleases us - another hit and miss
Cindy and Michael at Wheres the Beef? - Not glowing
Ed Charles was not impressed