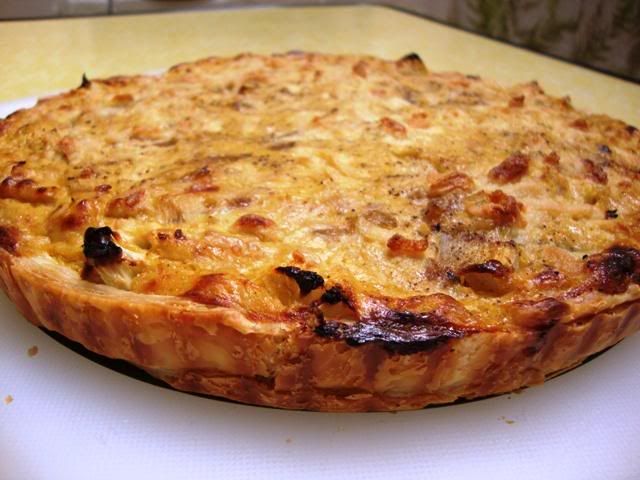 I had a 3 week old head of organic cauliflower just blankly looking at me from the fridge every time I opened the door. I FINALLY SNAPPED, Googled cauliflower and found this
wonderful recipe
. Well,
inspiration
because the only common ingredients is cauliflower, onions and mustard. This pie was jaw droppingly delicious, as well, we all know how
I feel about pie
, this is definitely a cookbook contender but I could NOT BE SO SELFISH AS TO NOT SHARE IT WITH YOU IMMEDIATELY. Enjoy.
Ingredients
1 medium head of cauliflower
3 tbsp of olive oil
2 large brown onions
1 tbsp of sugar
1 300gm packet of silken or soft tofu
2 tbsp of nutritional yeast
1 tbsp of dijon mustard
1 sheet of puff pastry
1/4 cup of cheezly*
method
1. Trim the cauliflower into florets, toss in 2 tbsps of olive oil, season with salt and pepper and roast at 200 degrees until they go golden (about 20 minutes).
2. While the cauliflower is roasting, slice the onions into thin rings, drizzle with remaining 1 tbsp of oil and cook on medium high heat in a heavy bottom pan, being careful not to brown them too much. Once the onion has wilted, turn the heat onto low, add the sugar, toss and cover the pan with a lid or a heat proof bowl, checking and stiring every 10 minutes or so. The onions should be done around the 30 minute mark, they will be soft, sweet and a deep golden brown.
3. Drain the tofu and whizz in a food processor with the nuritional yeast and 1/2 of the caramalised onions.
4. Line your pie pan (I use a 9 inch) with your pastry, prick the bottom about 10 times, then smear the dijon on the base.
5. Put the onions on the mustard then roughly chop your roasted cauliflower and arrange in the pie shell and smear the tofu mixture over the top, knocking the pie onto your bench a few times to make sure it fills all the little nooks and crannies.
6. Sprinkle with Cheezly and bake at 200 for about 30 minutes or until the top goes golden brown. Pie is best left to sit for about 10 minutes before slicing for the tofu to set.
Notes:
Cheezly is optional, if you don't have access to Cheezly or Sheese don't bother with any other vegan cheeses. If you find your pie shells go too soggy, blind bake them before you put the filling in. You could sub the nooch for 1 tbsp of light miso paste. This pie is amazing as a warm brunch item and cold at midnight straight out of the fridge.