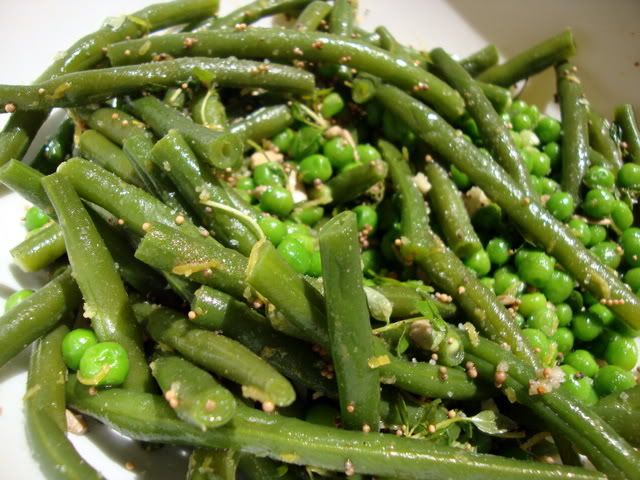 Greetings from New York! Heres a post to wet your whistle while I'm away!
I finally had a moment to peruse
Yotam Ottolenghis Plenty
and frankly he is my God. I had a huge boozey afternoon dinner party with sechewan potato, roasted sweet potato,
grilled asparagus
, green bean salad and caramalised roast garlic tart. It was completely DELICIOUS. The tart recipe is being saved for the cookbook ;)
Adapted from
Yotam Ottolenghis Plenty

ingredients
250 gm of french beans, trimmed
250 gm of green peas (fresh or frozen)
2 tsp of coriander seeds, roughly crushed
1 tsp of mustard seeds
3 tbsp of olive oil
1/2 small spanish onion diced
1 mild fresh chilli, sliced
1 garlic clove, minced
zest of one lemon
2 tbsp of thyme, chopped
sea salt and pepper
method
1. Blanch the green beans and peas.
2. Roast the mustard seeds in fry pan on medium heat until they start to pop.
3. Combine all ingredients in a large salad bowl!