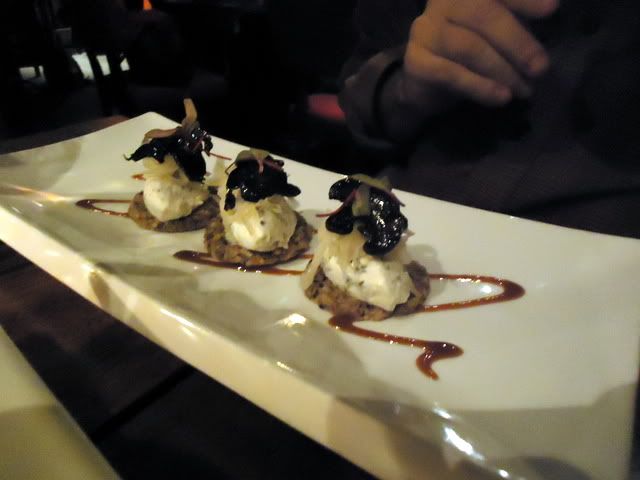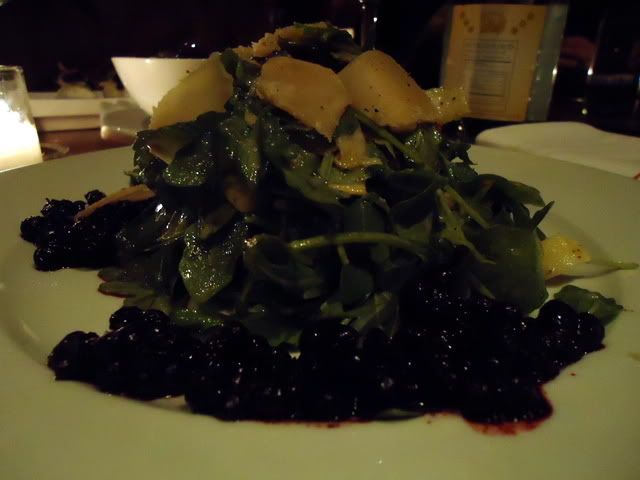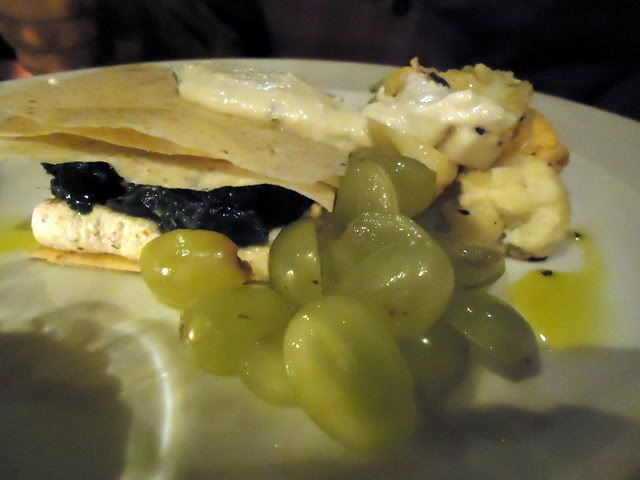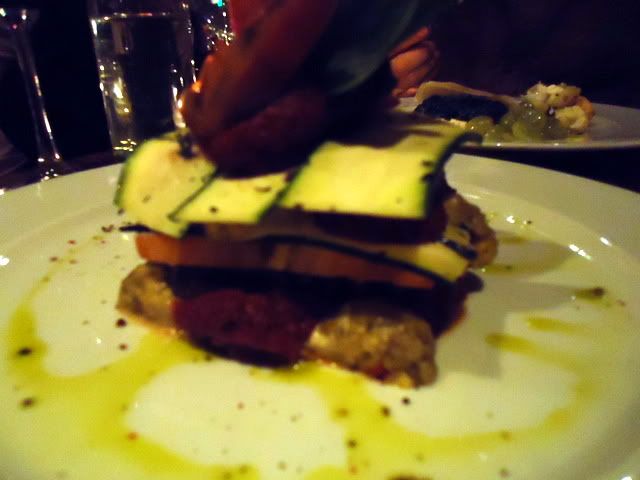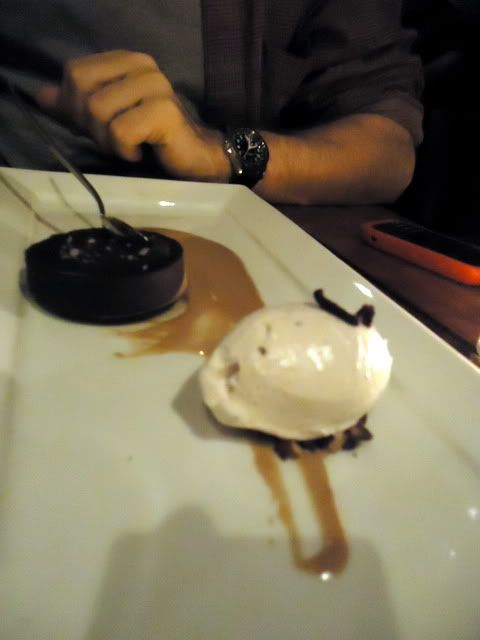 Meeting up with my old, dear friend Gordon in Union Square, we had tea and schemed as to where to have dinner. Gordon lives in the East Village and knows most of the best places to eat so when he suggested Pure Food and Wine I leapt at the chance as it was one of the ten or so restaurants I had book marked.
In the past I've found raw food to be a bit hit and miss but Pure Food and Wine was just spectacular. Its considered to be one of the best raw restaurants in the world, not having been to many, its certainly the best I've been to raw or otherwise.
We started with the hazelnut crostinis with crimini mushrooms and caper bearnaise with caraway sauerkraut, local apple cider reduction and the salad of arugula, endive, candied pecans, lavender shallot vinaigrette with aged balsamic soaked wild huckleberries, aged cashew cheese. Phew that was a mouthful. The crostinis were delicious, so creamy with the perfect balance of crunch. The arugula (rocket) salad I found a little over powering. The bitterness of the leaves paired with the tart balsamic and sour huckleberries was a bit too lip puckering for me. The revelation was the aged, smoked cashew cheese, I have never eaten anything like it. Like a smoked gouda, I couldnt believe it was raw (and vegan).
Main course, Gordon had the spanikopita with spinach, almond feta, cucumber yogurt with local cauliflower and white grapes and I had the zucchini, local roma and heirloom tomato lasagna with basil pistachio pesto, sun-dried tomato marinara, macadamia pumpkin seed ricotta. The spanikopita was just unbelievable. The perfect balance of flavours and textures, the creaminess of the almond feta and cucumber yogurt. I have no idea what they made the 'filo' out of but it was crunchy and light and perfectly held the filling. My raw-sangne was also amazing. My tongue tingled with all the flavours, the richness of the sun-dried tomato red sauce, the basil pesto was so full flavoured but light I have no understanding of how they made it. I found the acidity of all the tomatoes too much and couldn't finish it in the end or perhaps I was just making room for dessert.
A shared dessert of salted chocolate caramel tart with pecan caramel, dark chocolate ganache, maldon sea salt and vanilla cream was completely orgasmic. The salt, chocolate and vanilla mixing together almost made me cry.
The service was perfect, the space comfortable and warm. The organic wine was incredible. Its dining experiences like these that completely rock my world. Where I wonder "how the hell did they make this" with every dish that comes out, my brain flooding with seratonin at each bite. Its one of the top ten dining experiences I will take to my grave.
Sorry for the bad photos, bad lighting and drunk hands again.
deets:
54 Irving Pl (between 17th St & 18th St), New York
web:
Pure Food and Wine
$$:
Not cheap but completely worth it. Our meal with 3 glasses of wine and tip was about $150USD