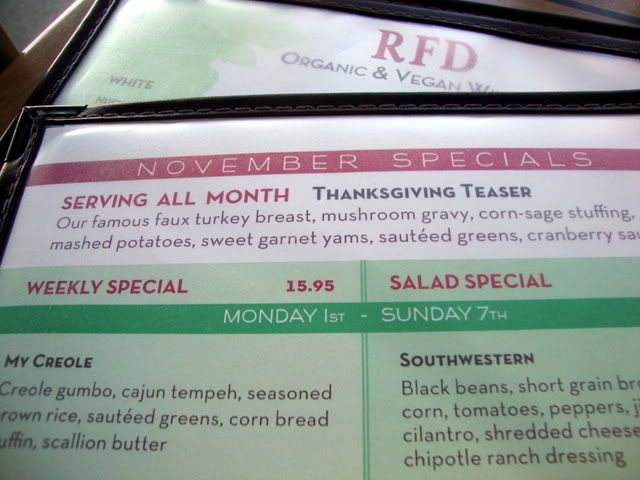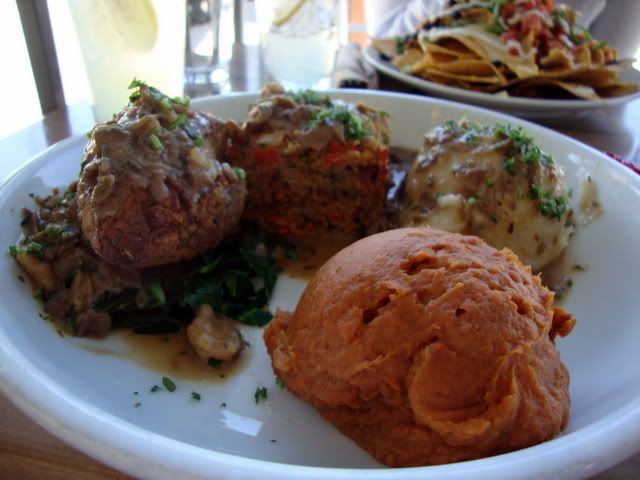 Ahh
Real Food Daily
. MY FAVOURITE VEGAN RESTAURANT EVER. Anne Gentry is pretty much my pop star hera. I would squeal like a little girl if I ever got to meet her. You can read about my previous adventures to RFD
here
and
here
though I've been going there since 2006. Everything is AMAZING. I was so excited this time as I was finally there at the right time to sample the famous RFD Thanksgiving dinner!
The food was unbelievable as usual, though the portion size was GIGANTIC (thankfully I got to take it away with me and enjoy it for dinner!). The only thing I didn't like was the faux turkey breast, just wasn't my style. The smooth as silk mashed potato and sweet potato (with cinnamon AMAZING), delicious gravy and completely amazing corn sage stuffing were the things Thanksgiving/Christmas dinner are made of. I just wished at that point that LA was cold enough to have the entire experience, but I'm not complaining! (pictured behind my meal is Clare enjoying the RFD nachos).
Because of where we were staying we got to go to the West Hollywood restaurant all the time, I'd only been there once as I always go to the Santa Monica space. The staff are lovely and eclectic (so many cute boys with mohawks!), the service is magnificent and the location means we spotted quite a stars enjoying RFD.
Seriously, if you're ever in LA GO.
deets:
RFD have 2 locations in Los Angeles
clicky clicky
and their website with menus is
here
.
$$:
Thanksgiving dinner $15.95 not including tax or tip.