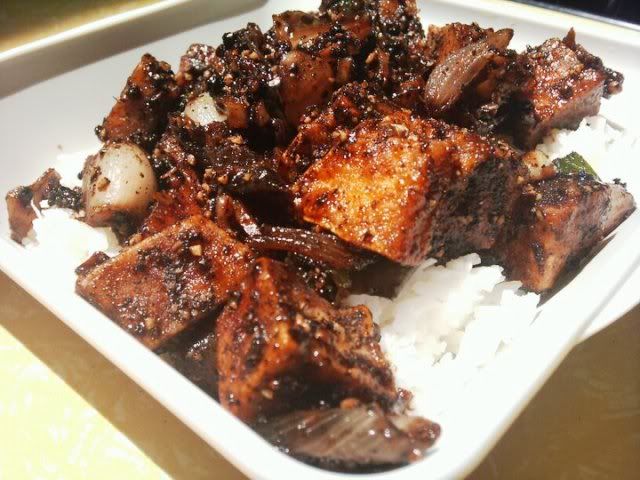 I have cooked
this recipe
three times now and in three different ways. I just cant get over how much pepper is prescribed! First time I tried the 5 tbsp and was too much, second time I tried 3 tbsp and was still too much, third time I tried 1 and I felt it was still too much! So go with what you feel. I suggest 2 tsp of bashed up peppercorns but you know what you like.
Also the original recipe says to cube the tofu, dust with cornflour then fry in oil until they start going golden brown. I preferred just straight fresh tofu cubed and then cooked in the sauce. In any event, this recipe however you get it to work for you, is sublime. I have also perfected the art of coconut rice. Rice was my kryptonite, I never could get it to work! I bought a rice cooker last winter and its become my most used appliance! Get one! (especially because I'm trying to be as wheat free as possible, you can just set and forget).
ingredients
800gm firm tofu, drained and cubed 2cm
2 tbsp of oil
12 small shallots, sliced thickly
8 fresh red chillis
12 garlic cloves
3 tbsp fresh ginger
3 tbsp sweet soy
3 tbsp light soy
4 tbsp dark soy
2 tbsp caster sugar
2 tsp black pepper, bashed in a mortar and pestle
16 spring onions, thinly sliced
method
1. Pan fry the shallots, chillies, garlic and ginger on medium high until the shallots start to brown. Add tofu to the pan and fry with the veg until it starts to brown a little.
2. Add all the soy sauces, sugar and pepper and cook on high until it starts to simmer and thicken up a bit. Then add the spring onions and saute for a couple of minutes. Serve over coconut rice.
coconut rice
2 cups Thai jasmine-scented white rice
2 cups good-quality coconut milk
1 3/4 cups water
2 heaping Tbsp. dry shredded unsweetened coconut
1/2 tsp. salt
1/2 tsp. coconut oil, OR vegetable oil
1 kaffir lime leaf
optional:
1-2 Tbsp. toasted coconut for garnish, also I've heard a little bit of fresh lemongrass is magic as well.
method
1. Throw all the ingredients in a rice cooker, set to your manufacturers settings. Done! For the stove top instructions please see the
original recipe here
.