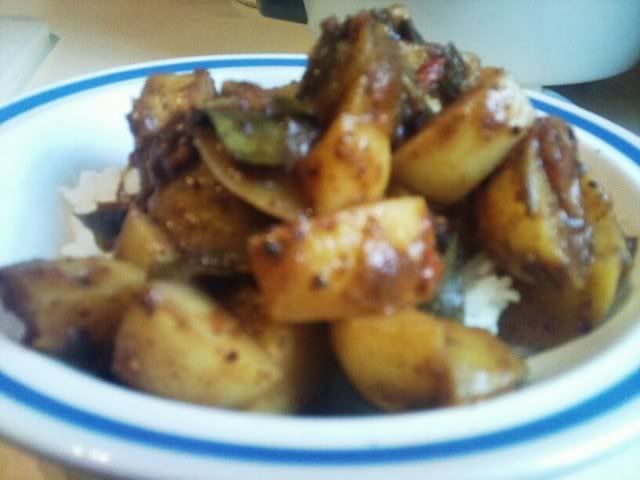 Ok so I only used one potato but it was still completely incredible. I have to admit I've never been a fan of Indian food (though I've been given the tip that Southern Indian food might be where its at for me). But Ottolenghi can make me try anything!
There's a fair bit of preparation with the spices but after that its essentially a stew. I think this would be amazing in a slow cooker. Must tweak the recipe in winter time to try it out. Again sorry for the appalling photo but I have a battery charger now woo!
ingredients
8 cardamon pods
1 tbsp of cumin seeds
1 tbsp of coriander seeds
1/2 tsp of cloves
1/4 tsp of ground tumeric
1 tsp of sweet paprika
1 tsp ground cinnamon
2 tbsp of vegetable oil
12 shallots chopped
1/2 tsp of brown mustard seeds
1/2 tsp of fenugreek seeds
25 curry leaves
2 tbsp of fresh chopped ginger
1 fresh chilli, finely chopped
3 ripe tomatoes roughly chopped
50 ml of cider vinegar
400 ml of water
1 tbsp of sugar
400gm of waxy potatoes cut in a 2.5cm dice
2 small red peppers cut into 2cm dice
400gm of peeled sweet potatoes cut into 2.5cm dice
salt
mint or coriander leaves to serve
method
1. Make the spice mix by dry roasting the cardamon, cumin and coriander seeds until they start popping. Remove cardamon seeds from pods and grind with the tumeric, paprika and cinnamon (I used an old coffee grinder but a mortar and pestle will do!).
2. Fry the shallots, mustard seeds and fenugreek on medium low for about 8 mins or until the shallots start to brown. Stir in the spice mix, curry leaves, ginger and chilli and cook for further 3 minutes. Then add tomatoes, vinegar, water, sugar and some salt bring to boil then simmer covered for 20 minutes.
3. Add potatoes and peppers and simmer another 20 minutes. For the last stage add sweet potatoes and make sure there is enough liquid to cover the veg then simmer for 40 minutes more or until tender. Remove lid and boil off to thicken the sauce for 10 minutes. Serve with rice and
tofu sour cream
.