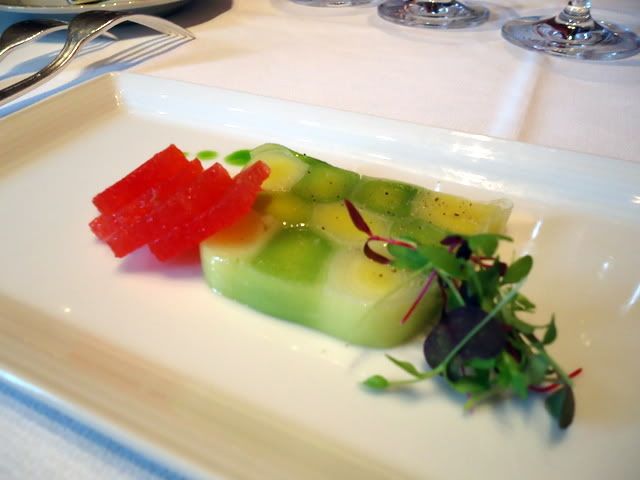 A terrine of leek and watermelon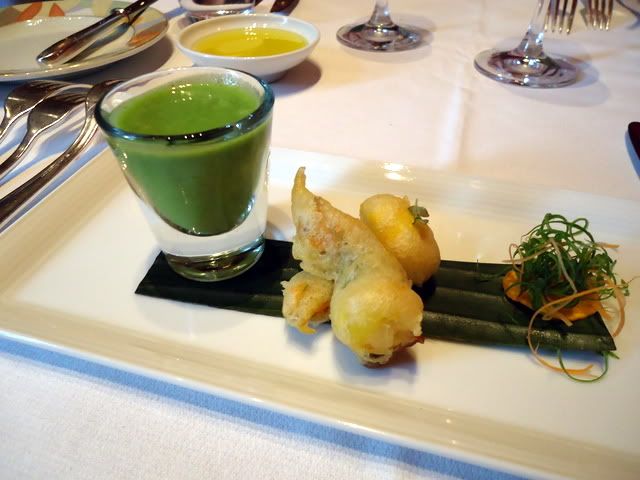 Zucchini and coriander soup with a fragrant zucchini flower tempura.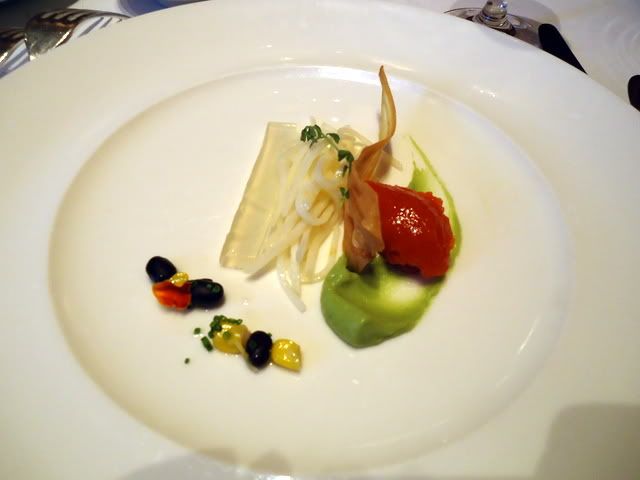 Sandwich of celeriac, mirin and fresh wasabi jelly (made with agar), red capsicum delicacy, black bean and sweetcorn dressing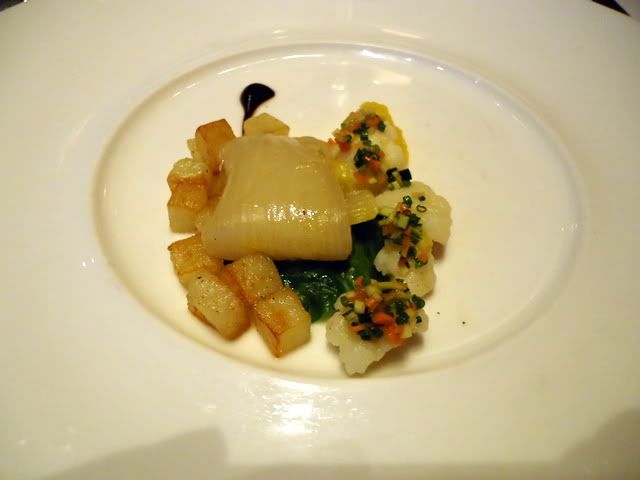 Potato hash (in replacement of gnocci) with braised leek? and cauliflower, almond and bush mountain pepper caramel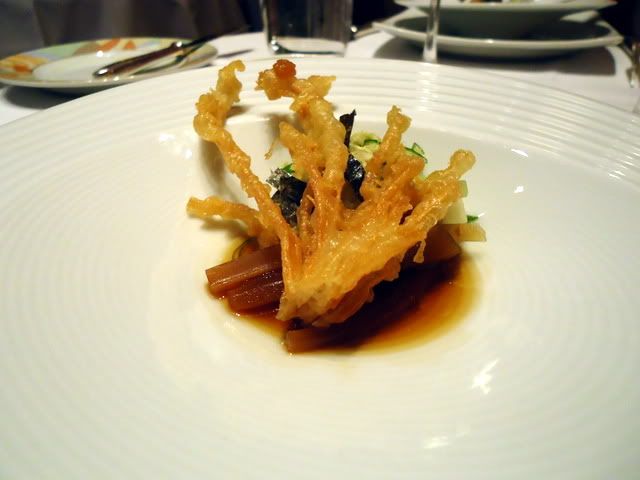 Lacquered salsify, Japanese coleslaw, ennoki mushroom tempura, soy and sake glaze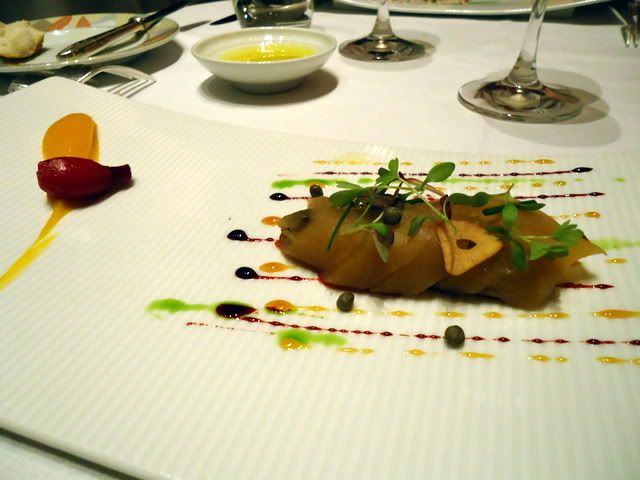 Sweet pepper and eggplant miso dengaku, horseradish mustard dressing, butternut pumpkin with a campari and soda poached baby turnip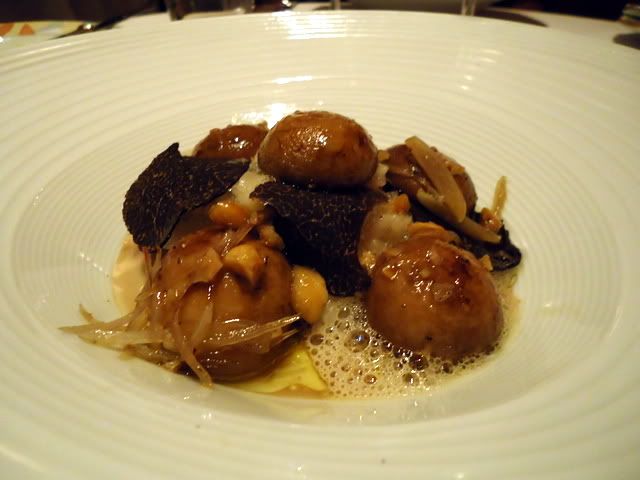 Winter mushrooms risotto, broth of mushroom and truffle juice (we chose the extra $25 option of having fresh shaved French black truffles on top)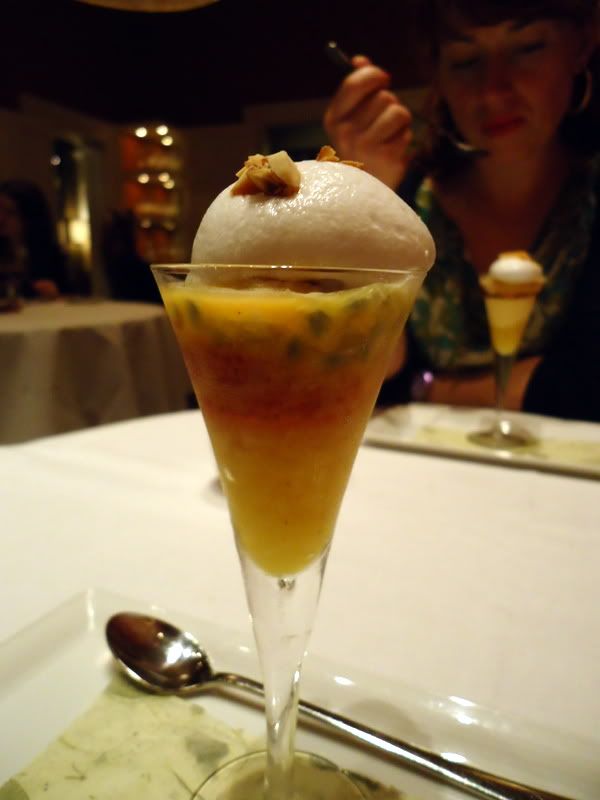 Pacific Rim martini of pineapple, passionfruit and banana, mango sorbet and praline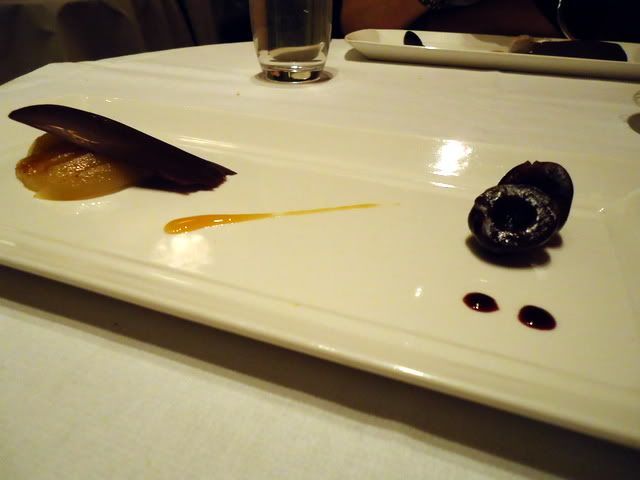 Millefeuilles of chocolate: fresh poached cherries, dark chocolate, poached pear with blow torched sugar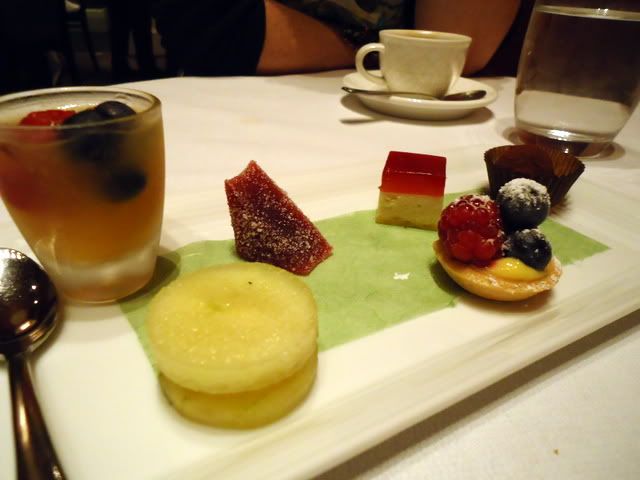 Coffee and petits fours (this was the part that made me cry, I had no idea these were coming out and they were SO beautiful and SO amazing - I had never thought I could have 'petite fours' again). My selection was like a blackberry flavoured jube, an apple sandwich of cicle cup apple pieces with I cant remember what in the middle, and agar set mango, pineapple and blueberries.
Suffice to say this was mind blowing. We got a bottle of bubbly and spent 3.5 hours eating, laughing talking, being pampered. Every care was taken to make sure I had the vegan equivalent, oil laid out, which breads were vegan etc. The wait staff were just gorgeous. This was such a special, wonderful evening. I cant really say much more!

* incidentally $40 per head less than the omnivorous menu (we all know how I feel about this subject ha!). I didnt feel cheated at all in comparison to the vegetarian menu, I felt just as much care had been taken in making mine vegan.
deets:
78 Williams Road, Prahran
$$:
$130.00 without wine $70 bubbly $50 truffles $20 tip $400 total.
other voices, other times:
I cant find any other vegetarian reviews of Jacques so I wont bother hurting your eyes with posting to meat ones. Please send through vego blog reviews if you know of any :)