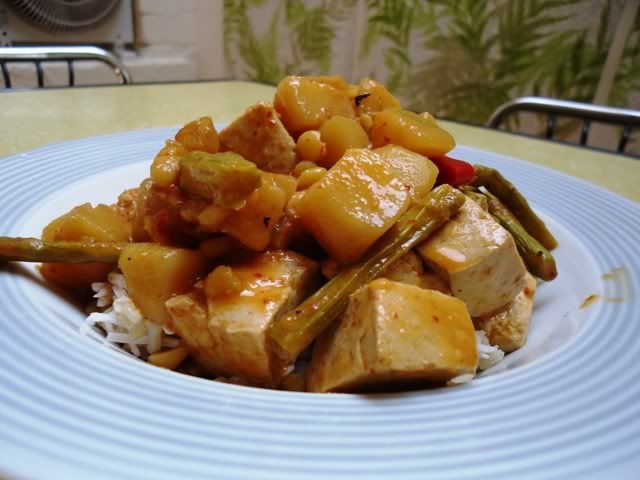 I cooked. It's true, after having to throw out a vegie drawer of food. I have never thrown out that much food before, I felt so bad. I am doing 3 subjects at school this semester (IT diploma at Vic Uni), doing 5 days worth of work crammed in 4, working on Arbonne and writing for 2 websites. To top it all off the project I've been working on for the past 2 years is down to its final thesis period where we evaluate all we've done and in the next month present our finding and final recommendation to the steering committee. If that wasn't all enough I'm doing school two nights a week in addition to the one day, meditation one night a week have Queer Film Festival just around the corner and a visit from two DEAR friends from the UK in a couple of weeks. EEK! So of course I've been sick, and the cure for sickness is CHILLI!! lots and lots of garlic and curries. This was knocked up from whatever food wasn't rotten in my fridge! It was DAMN good and helped flush out my body. Book mark for the upcoming cold and flu season.
ingredients
400 gm of peeled potatoes, cubed small (floury works well)
2 small onions, diced
4 chillis, thinly sliced
300 gms of firm tofu, rinsed, drained and cubed
1 x 400ml can of coconut cream
3 - 4 tbsp of red curry paste (Thai Gourmet brand is vegan and gluten free)
1/2 cup of yellow split peas
1 bunch of asparagus or green beans cut into 2 cm pieces
1 tbsp of grated palm sugar
2 kaffir lime leaves, crushed
2 tbsp of soy sauce (tamari to make it gluten free)
1-2 tbsp of fresh lime juice
method
1. Sauté the onions in a drizzle of oil (or sesame oil) on medium high until they turn translucent. Add the sliced chillis and sauté for another minute. Stir in the red curry paste until well combined and the spices have started to release flavours (don't stick your head over the pot like I did and almost get maced in the process!). Add the coconut milk and stir until the paste is well combined. You now have your curry sauce.
2. Add the potatoes, split peas, tofu and kaffir lime leaves, reduce heat to low and leave to simmer gently for 20 minutes.
3. Grab 2 tbsps of the curry mixture out of the pot and mix with the stock cube in a small bowl to dissolve it. Add to to the curry mixture. Once the potatoes are tender finish off the curry with the soy sauce, lime juice and asparagus. The asparagus only needs 2 minutes to cook in the hot liquid. Serve over rice (my favourite is
coconut rice
).