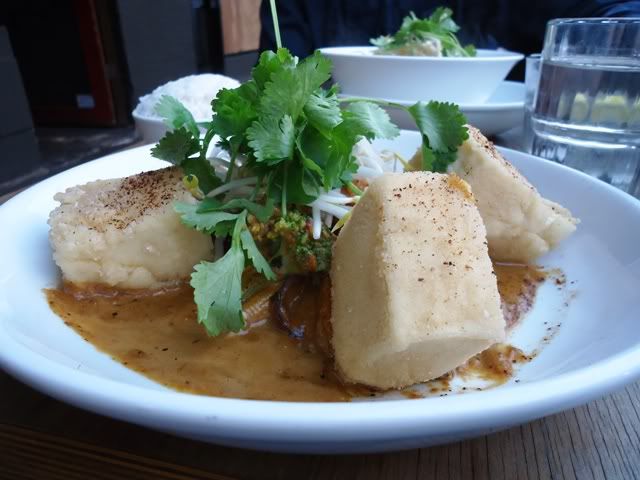 A new season and it's time for some new menu items. The ever delicious
tempeh rendang
and
tofu and tempeh skewers
are still there but there are many new additions that just look spectacular. You are meeting the chilli salt silken tofu with broccoli, snakebeans, lime basil & red curry. Delicious. The giant, custardy chilli salt tofu cubes explode into the full bodied red curry sauce creating a giant saucy mess. Served with snake beans and roasted pumpkin, get a wee bit of each on your fork you fall in love with the texture and flavour combinations. I didnt think anything could woo me from my usual but we have a worthy new contender. The kitchen issues they were having around the Christmas close down period seem to be well gone. A tip o the hat to you Tom Phat, keeping Brunswick well fed.
Deets:
184 Sydney Road, Brunswick
web:
http://www.tomphat.com.au/
$$:
$15 (?) around that
previous easy as vegan pie trips:
one
,
two
,
three
,
four
Other voices, other times:
mel: hot or not
the hungry lawyer
food rehab
melbourne gastronome
we do chew our food
vegan about town
wheres the beef?