pan fried tofu with coconut red curry 'hollandaise' sauce, served with roast potatoes, spinach and tomato.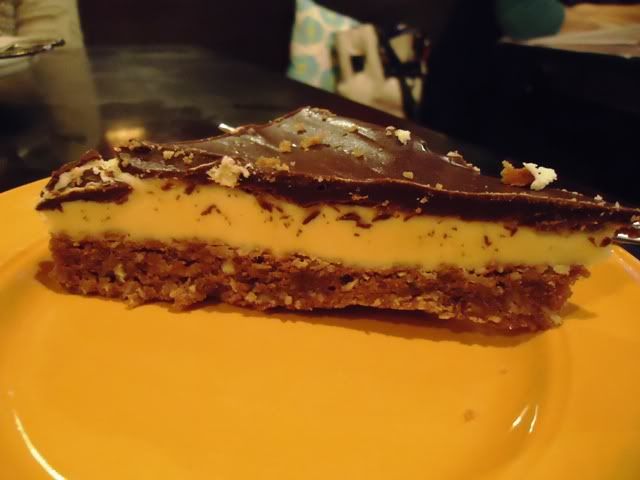 mint slice (!!!)
My second trip to Revel Cafe in K-Road, Auckland was
just as amazing as my first
. They have a huge range of rotating vegan dishes (all the dishes were different this visit) with an equally huge cabinet filled with vegan pastries (savoury), vegan cakes, cookies and cupcakes. There is usually only one kind of each but that adds up to a seriously impressive vegan menu! The hollandaise sauce was delicious, just a small amount of kick and so so creamy. The rest of the dish was standard fare but perfectly cooked, particularly the potatoes (served with some drops of their homemade pesto). I love Revel. Everyone who works there is super lovely, friendly, and their compassion doesn't just extend to food they were even nice to the homeless man who was sitting at one the tables outside, just letting him know he was welcome to stay but once people needed the table he had to go. You warm my heart Revel.
deets:
deets: 146 K Road, Newton, New Zealand, (09) 309 2372
$$:
breakky was $18NZ and mint slice was $5NZ (I think).
other voices, other times:
I discovered Revel through
Moira at An Auckland Vegan